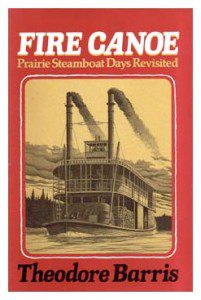 Fire Canoe, Prairie Steamboat Days Revisited
McClelland and Stewart
1977
ISBN 0-7710-1025-7
Return to the glamour and romance of Canada's steamboat days as journalist Ted Barris leads a prairie expedition into the past as recalled by the people who lived it.
Here, recaptured with vivid excitement, is the era when spark-belching steamers – called "fire canoes" by the awestruck aboriginal people who witnessed their coming – plied prairie waterways. For 50 thrilling years, a cavalcade of history paraded across their decks, people with figures of royalty, Mississippi riverboat refugees, gold-seekers, entrepreneurs, adventurers, circuses, preachers and politicians.
Packet, tub, queen and tramp steamers – they ferried the immigrants who pioneered an expanding western frontier and they freighted the rich cargoes that frontier produced. They coped with mutiny, transported militia to fight in the North West Rebellion, inspired poets and prose-writers, and fought in ruthless competition as the steamship lines that owned them vied for supremacy on western waters.
Fire Canoe is "people history," an exciting adventure story studded with rich folklore, personal anecdotes, maverick entrepreneurs and incredible feats of navigation. It is an unforgettable story based on the recollections of hundreds of living people who still remember what it was like back when…
TED BARRIS – Formerly a Toronto media writer-producer, now a Saskatoon radio producer, Ted Barris is a people watcher. During the late 1960s, his feature writing focused on popular musical entertainers; writing for radio while working toward a Bachelor of Applied Arts, he sought out the human components of youth culture; involved in educational television both in Ontario and Saskatchewan, and now active in feature ratio production, Barris seeks out the odd and the authoritative for daily magazine programming. Fascinated by a prairie history still young enough to speak with, 28-year-old Barris writes folk history.