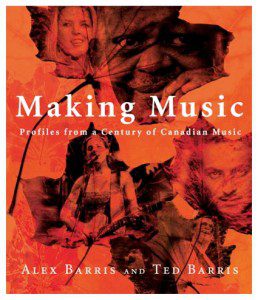 Making Music, Profiles from a Century of Canadian Music
HarperCollins
2001
Hardcover ISBN 0-00-200056-3
Softcover ISBN 0-00-639163
Bryan Adams · Susan Aglukark · Blue Rodeo · Glenn Gould · Oscar Peterson · k.d. lang · Ben Heppner · Guess Who · Guy Lombardo · Diana Krall · Healy Willan · Neil Young.
Making Music celebrates 200 remarkable Canadian musical artists – including the above – who have entertained audiences at home and around the world from the early 20th century to the present day.
Written by father and son veteran broadcast journalists Alex Barris and Ted Barris, Making Music offers much more than standard biographical entries. It is a showcase of the duo's combined 80 years of show business experience. Their thousands of interviews and proximity to musical artists have given them an incredible store of anecdotes – and insights – into the greats of Canadian classical, jazz, opera, big band, folk, rock, country and alternative music. With more than 150 photographs, Making Music is a must-have reference for Canadian music fans.
Praise for Ted and Alex Barris's Making Music…
"… the best omnibus guide to Canadian musical artists yet published." – Province (Vancouver)
"It's a fat, informative, 500-page tribute to 200 Canadian singers and musicians, and it's certain to be used as a key reference by anyone interested in Canadian music-makers." – Sid Adilman, The Toronto Star
"… a love affair with Canadian music and its performers." – The Gazette (Montreal)
"This is the book I want to have beside me in the studio. It is a valuable resource for broadcasters, critics and music fans." – Ross Porter, host CBC Radio's Afterhours
"This is a treasure-trove of fascinating information about Canadian musical artists of the past century." – Sam (The Record Man) Sniderman
"What a resource for Canadians interested in more than just thumbnail sketches of their favourite musicians. Imagine! A book that has Sir Ernest MacMilllan next to Rita MacNeil, and David Foster and Maureen Forrester all mixed in with Rush – jazz, pop, classical, rock, folk, country – all between two covers!" – Mary Lou Fallis, soprano and concert comedienne
ALEX BARRIS is a writer and broadcaster, well known for his CBC TV and Radio appearances for several decades. He is the author of 10 books, including Front Page Challenge: History of a Television Legend and with Ted Barris, Days of Victory: Canadians Remember 1935-1945. He is a member of the Order of Canada and lives in Toronto.
TED BARRIS is a journalist and broadcaster, known as a news and current affairs host on CBC Radio and TV, as well as TV Ontario. He is a professor of journalism at Centennial College in Toronto. He is the author of 10 books, including national best-sellers Deadlock in Korea and Behind the Glory. He lives in Uxbridge, Ontario.