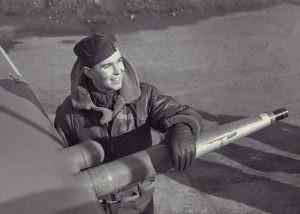 In the fall of 1945, a train carrying wartime troops from the campaign to liberate Europe, delivered a 25-year-old air force veteran to the platform in Guelph, Ont.
Flush with victory over the Luftwaffe, Charley Fox came home with one of the most distinguished air combat records of the Second World War – 222 operational missions, two full tours and two Distinguished Flying Crosses as well as the credit for taking Germany's most celebrated officer out of the war. He returned to his wife Helen (whom he'd married in 1942), his two-year-old son Jim, and the job he expected his Walker Store employers would hold for him.
What he didn't expect at the department store was a visit from the mother of one of his childhood chums, Andy Howden, killed in the air war overseas. The distraught woman grabbed Fox by the shoulders and shook him right there in the store.
"Why my Andy?" she cried, "and not you!"
"Mrs. Howden, I don't know why not me," he replied trying to console the woman.
So deep was the effect of the apparent contradiction that he should survive the war and not his chum, that Fox committed himself – quietly at first and then later as a retired businessman and honorary colonel of No. 412 Fighter Squadron – to recounting the stories of fellow Canadian veterans. Eventually, his crusade to inform school children, historical societies, service clubs and even serving troops became known as Torch Bearers Canada.
His sporty, red Saab with flaming torch emblem on its bumpers has zigzagged across the province constantly delivering him to more speaking engagements than he flew sorties. He has arrived and spoken from the heart without fanfare and without a speaking fee. He has never stopped answering Mrs. Howden.
Over the weekend, his "why not me" mission came to an end. Last Saturday, Charley Fox had just left a one-room portable at the Tillsonburg airstrip, where the Canadian Harvard Aircraft Association held its monthly meetings. Since 1985, when CHAA was created to restore and return to the air some of the Harvard trainer aircraft used to train thousands of pilots during the war, Charley had been an active volunteer. Following Saturday's meeting, he drove from the airstrip to join fellow CHAA members for brunch in Tillsonburg. He never made it. He died in a car crash just south of the airport.
"He lived a very full 88 years," wrote Sandra Sparkes of CHAA, "and had such plans for so many more."
Charley Fox's teenage plans had never included flying. He never built airplane models. He even refused a flight over Hamilton once for fear he'd be airsick. But on a summer day in 1934, when he was 14, he watched a touring flight of RAF Hawker Fury fighter aircraft swoop low and fast over his home in Guelph.
"They were silver-coloured fighter biplanes," Fox said. "Five (of them) came zooming over the top of College Hill, glinting in the sunlight. Then swoosh. They were gone. But I never forgot it."
Like so many smitten by the romance of mid-Depression aviation, when war broke out in 1939, Fox left his retail job in Guelph and enlisted in the RCAF. He'd set his sights on flying only the fastest fighter aircraft of the day – the Spitfire. Because he graduated second in his class of July 1941.
However, Fox was told he would train military pilots in the British Commonwealth Air Training Plan; it was Canada's largest wartime investment ($1.5 billion) teaching men from across the empire to become military pilots, navigators, wireless radio operators, gunners, bomb-aimers and flight engineers. From October 1941 to May 1943, at No. 6 Service Flying Training School, in Dunnville, Ont., instructor Fox trained hundreds of pilots.
To illustrate his career in the BCATP, at his Torchbearers talks, Fox would extract from the trunk of his Saab a seemingly endless supply of easels and display boards full of runway diagrams, excerpts from his flight logs, and photographs of Harvard trainers lined up on the flight line, taking off in formation or crumpled by training accidents. One photo depicted a noseless Harvard downed in the woods near Bagotville, Que.
"That's when I had my mid-air collision," he would tell his audiences. "I was leading a section of three Harvards. Three Hurricanes came along. One did a mock attack from below. He must have blacked out, hit me, tore out my engine right to the fire wall. He spun in and was killed…I opened the coop top, stood on the seat and went over the side…and parachuted from 300 feet."
If, in his hospital bed, young fighter pilot Fox figured he'd proven himself, he was mistaken. As a result of his two years of instructing, Fox had accumulated 1,500 flying hours (most front-line fighter pilots might have 200 hours). He still flew tail-end-Charlie (last man in a group of four Spitfires) when he joined fighter command at Tangmere on the south coast of England in 1944.
On his first combat sortie over the English Channel with Canadian fighter ace Buzz Beurling leading, Fox over-compensated during a formation takeoff and accidentally allowed his propeller tips to scrape the tarmac. Later that night, Charley remembered Beurling disciplining him over a game of billiards.
"Shoot, Charley, that was a stupid thing to do," Beurling said. "The prudent thing would have been to turn back."
"That would make me look yellow," Fox protested.
Just then, Tangmere station came under bombing attack. The two Spitfire pilots dove under the pool table for cover. Fox turned to his squadron leader for a final word. "Consider yourself told off," Beurling said finally. Initiation complete.
Charley Fox's brushes with history only began with Beurling. He scrambled numerous times from that storied Battle of Britain aerodrome in the lead-up to D-Day. As the June 6, 1944 invasion began on the beach, Fox and his RCAF 412 Squadron flew three operational trips over Normandy protecting thousands of ships and landing craft (one bringing Charley's younger brother Ted ashore with the Royal Canadian Artillery).
"Nervous? No," Fox said, "but I felt very much alive that morning…For some reason, everything was so much more intensified at the moment – our smell, sight, everything. We were living on the edge."
Throughout that summer Fox and his squadron mates dive-bombed German rocket sites that began launching V-1 and V-2 rockets at English civilian centres. And as the Germans fell back in France, Allied Spitfires hastened the retreat by chasing German locomotives, tanks and truck convoys, all considered "targets of opportunity."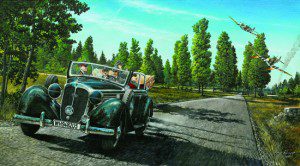 Fox's greatest "opportunity" appeared on the afternoon of July 17, 1944. He and his wing-mate Steve Randall spotted a German staff car racing along an avenue of trees. While Randall protected his quick descent, Fox swooped in out of the sun, strafed the vehicle and drove it off the road.
"I timed the shots so that I was able to fire and get him as the car came through a small opening in the trees…I got him on that pass. We were moving pretty fast, but I knew I got him."
By the time Randall and Fox had landed back at their base, the radio buzzed with exciting news. An Allied pilot had shot up a Horch convertible containing a driver, three German officers and none other than the Desert Fox himself, Field Marshal Erwin Rommel. By nightfall an American Thunderbolt pilot, a Spitfire pilot from No. 411 Squadron and several others in the air about the same time all claimed the score on Rommel.
Charley Fox never talked about it, "but it's always been sitting in my log book," he said. In April 2004, nearing the 60th anniversary of the famous strafing, Quebec historian Michel Lavigne announced he'd compared official RCAF and German military records to confirm the time, location and aircraft involved. Charley Fox had put the Desert Fox out of the war.
Victory was relative for Charley Fox. More important than the nearly 2,000 hours he'd flown between January 1944 and May 1945, more important than the 361 enemy aircraft, 493 locomotives and 1,569 enemy railcars his RCAF Wing had destroyed, and perhaps more important than his Distinguished Flying Cross and Bar the military had awarded him, was his wartime family.
Rigger Monty Montgomery and fitter Danny Daniels – Charley's ground crew – had remained with him throughout the liberation campaign. He recalled their loyalty and professionalism.
"One time I came in to land, near Nijmegen (Holland)," Fox said. "I couldn't get the under-carriage down. I elected to put the Spitfire down on grass beside the runway. It didn't do too much damage, (but) I remember Monty crying at the end of the runway, wondering what he'd done wrong."
Charley wrote his wife Helen back in Canada to buy two cigarette lighters and engrave them with their names. Knowing Daniels and Montgomery had completed their tours by the time the squadron reached France that summer of 1944, Fox presented them with the lighters as they were about to return home.
"Charley Fox," the two ground crewmen announced, "when you finish your tour, that's when we go home."
His air force family remained with him until his final operational sortie in 1945.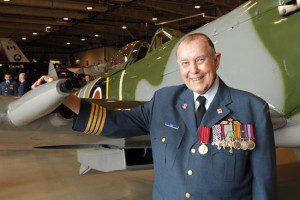 Charley Fox had more families than most: his wartime air force comrades, his workplace colleagues before and after the war, the thousands of youngsters he met and inspired with the stories of Canadian service, countless journalists and broadcasters who relied on him for that perfect Remembrance Day observation.
As busy as his Torch Bearers schedule proved (Fox had appearance bookings lined up through 2010), the man always made time for his blood family. Following a speaking engagement two weeks ago in London, he turned down several offers to retire to a restaurant for refreshment; he'd promised to deliver some groceries to his daughter Sue down the road in Thamesford.
"Family comes first," he said.
"It's the kind of man he was," Sue Beckett said. "A man of compassion and integrity."