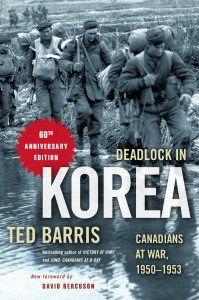 Deadlock in Korea: Canadians at War, 1950-1953
Thomas Allen Publishers, May 2010
ISBN 9780-0-88762-528-2
Politicians called it a "police action." The Canadian working volunteers who went to Korea to fight the Communists remember it as a bitter, grinding shooting war.
In the summer of 1950, thousands of Canadians – some veterans of the Second World War and regular army servicemen as well as adventure-seekers, unemployed and even some in trouble with the law – eagerly signed on for a UN-sponsored mission to stop the Communist foray into South Korea. They joined a forty-eight-nation, U.S.-led expeditionary force that quickly found itself embroiled not in a "police action," but a full-scale hot war.
Ted Barris interviewed hundreds of Korean War veterans to then retell their stories of heroism and survival, tragedy and absurdity, successful operations and total snafus.
The Korean War was the first explosion in cold war between the USSR and the US after 1945. Canadian air force, naval and infantry volunteers were among the first to join the defence of South Korea. They etched locations such as Chinnampo, Kap'yong, Chail-li and Kowang-san onto the list of notable Canadian battlegrounds. Then, after twelve months that saw U.N. troops fighting up and down the Korean peninsula and drew Communist China into the conflict, the war settled into a bloody stalemate in the mud and cold around the 38th parallel.
Deadlock in Korea tells the stories of the men who fought in Korea, giving this war – that cost Canada more than a thousand casualties and was virtually ignored back home – its rightful place in Canadian history.
The book was a national best-seller on both the Maclean's magazine and National Post top-ten lists in 1999-2000; and it has been officially recognized as the official history of Canadians at war in Korea by the Korea Veterans Association of Canada (Barris was made an honourary member of the KVA).