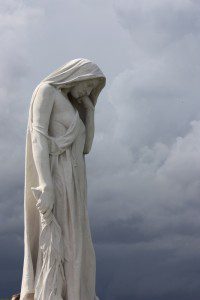 About a year ago, I received a letter from a stranger. He had read my book "Victory at Vimy," the story of Canadians pushing the German Army from its nearly three-year occupation of strategic heights in north-central France. Born in Chile in 1944, the man said he had immigrated to Canada in 1976. In what had clearly been an important step in their lives, Pat Carvacho, his wife and two children became Canadian citizens soon after. Now a semi-retired architect, he wanted to share a dream he had experienced prior to reading my book.
"I saw a soldier of the Great War. I instantly learned his name, Charles Roy," Carvacho wrote me. "Later (in the dream) I saw this soldier in a trench immediately before an attack, then advancing with his rifle and bayonet. There was a powerful explosion and the rifle and bayonet broke in pieces."
Since my letter-writing acquaintance had the soldier's name in his head, he immediately contacted Veterans Affairs for more information. It turned out Roy was from Eugenia, Ont., had signed up with the Canadian Expeditionary Force, was sent overseas in 1916, and later (serving with the 78th Battalion) was "reported missing in action … and presumed dead on 9.4.17" the first day of the battle at Vimy Ridge.
Pat Carvacho is a man after my own heart. He pointed out in his letter to me that he has always been a rational person. He said he was not into the esoteric and had only described his dream to family and close friends. I felt privileged that he had shared the dream and his subsequent search for Roy's background with me.
The letter, the dream and the meaning of being a proud Canadian struck me this week, as the country approaches the 93rd anniversary of Vimy, tomorrow. Coincidentally, a number of events have emerged that have suddenly thrust the essence of Pat Carvacho's letter about Vimy into my consciousness.
Last Sunday morning, I had a long conversation on the radio with a Montreal broadcast friend of mine. He was upset that during a recent national survey, more than three-quarters of Canadians had no idea what Vimy Ridge was or why it was significant.
Wednesday night I attended the annual Vimy Dinner at the Royal Canadian Military Institute during which members of the newly formed Vimy Foundation talked about raising Canadians' awareness of the Vimy story. Board member Christopher Sweeney said it all.
"The Canadian government isn't doing a very good job of promoting Vimy Ridge Day," he said. "We're going to work to make this a national event … and use the 'spring poppy' to remember the victory at Vimy."
Apparently, federal officials aren't the only ones who've forgotten Canada's war dead. A group of professors at the University of Regina have opposed a scholarship program that would offer the dependents of those Canadians killed in Afghanistan education funding. The so-called "Regina 16" planned to block the U of R's plan to waive tuition and course fees and to provide $1,000 a year to successful applicants of Project Hero.
"We think this program is a glorification of Canadian imperialism in Afghanistan," Prof. Jack Webber told CanWest news.
Today and tomorrow, I will be participating in events that may remedy some of this apathy and misunderstanding. Provincial, regional and public education families in Ajax will attend the christening of a brand new facility in their midst – Vimy Ridge Public School. Meanwhile, a nation-wide campaign, called Each One Remembered, will encourage Canadians to wear a springtime poppy this week to pay tribute to John "Jack" Babcock, Canada's last known veteran, who died in February.
"Each Day is Remembrance Day," is one of the slogans to be used.
Meanwhile, my correspondent friend – Pat Carvacho – concluded his letter to me, last year, by saying that he hadn't really understood why the dream about Private Charles Roy had come to him. He admitted that the images of Roy's death had stayed with him in the years leading up to the 90th anniversary of Vimy in 2007. But I think what stayed with me was one of Pat's final thoughts. And it's a thought I'd like to pass along to those 16 University of Regina professors and to the more than 79 per cent of Canadians who don't realize the significance of April 9, Vimy Ridge Day.
"I feel I owe something to this man," Pat Carvacho wrote in that letter. "The least I can do is to acknowledge his sacrifice and what he died for."
No truer patriot can be found than one who honours his adopted country's past and some of its nearly forgotten architects.