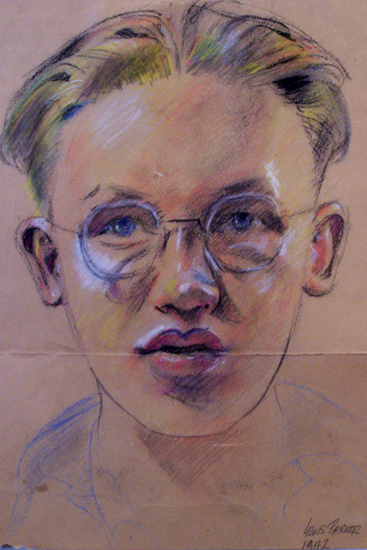 Canada lost three important people over the past week.
One was a dear friend and broadcast colleague, Roger Abbott. His wit, his wisdom, his clever characterizations on CBC's "Royal Canadian Air Farce" made us laugh at ourselves when we needed to most.
Though I did not know him, Canadian corporal with the Royal 22nd Regiment, Yannick Scherrer, died when another improvised device exploded beneath his foot patrol in Afghanistan; his family, his comrades, and no doubt many innocent Afghans in the Panjwaii district who depended upon him for security will miss him sorely.
But I lost another dear friend last Sunday – artist Lewis Parker. With your indulgence, I offer the reprint of a column I wrote in tribute (back in August 2003) to the man, the historian and the artist when he was still among us.
History isn't always told in words.
A man came into the bookstore during the blackout a couple of weeks ago. He was picking up a picture book he had ordered. The book caught my eye because it depicted soldiers, their kits and their weapons from the late 18th and early 19th century. I discovered that the man was a water-colourist and the book was research for his painting. Lewis Parker has spent a lifetime capturing history in his artwork.
"I'm currently painting Tecumseh during the War of 1812," he told me. "I love that period because it's when Canada was being formed."
I wondered about the man's motivation. I concluded that perhaps this fascination for history came from living it as much as depicting it. Lewis Parker began his artistic career as an illustrator in Toronto. Although he enlisted in the infantry midway through the Second World War, by the time he got overseas the Canadian Army newspaper, The Maple Leaf needed a backup cartoonist. So, while Canadian troops liberated the countryside in Holland, Parker got his baptism of fire helping to put out a daily newspaper for service men and women in Europe.
Back in Canada after the war, painter Parker found work doing political cartoons on the "yellow pages" that used to bookend Maclean's magazine in the late 1950s. In the 1960s the Toronto Star hired him to continue his cartooning, but he found his true love was depicting famous moments in Canadian history.
He began creating illustrations for textbooks and for authors such as Pierre Berton, Farley Mowat, Scott Young. He even did the artwork for a Dell comic book series about a First World War hero, called "Tommy Holmes, V.C." He has illustrated no fewer than 85 books.
"The Americans came knocking about 1975," Parker said. "They were doing four-minute movies about the bicentennial of the American Revolution … and they found that illustrators were cheaper in Canada than the U.S."
As much as Lewis Parker loved painting images of soldiers, Indians and historic moments in the American war of independence, he said the process was horribly dissatisfying. To ensure the images were authentic, he researched as much as he could, only to find "representatives from NBC coming up from New York and taking away work that was only half done." And although the broadcaster paid him, Parker never felt that his telling of the history was really complete.
Meantime, Lewis Parker's reputation as a painter of history spread. He was commissioned to do a series of paintings depicting Indian life at Ste Marie Among the Hurons. A Canada Council grant took him to western Canada to do similar illustrating for the Stoney and Blackfoot bands.
Then in 1980, when the historic sites people needed artwork to display life at Fortress Louisbourg on Cape Breton Island, Parker spent two years creating huge murals that are still on display there today.
Several years ago, one of Parker's students, renowned artist Michael Dumas, suggested to the curator of the Gallery on the Lake at Buckhorn, Ont., that she do a Lewis Parker exhibit. Ester Inglis visited him in Uxbridge and has just opened a show "Canada Past and Present" at her unique location along the Trent-Severn Waterway.
"Nobody has his ability to capture historical scenes," curator Inglis said, "and to capture slices of Canadian life either."
As delighted as the 77-year-old Uxbridge-based artist is with the Buckhorn show, those NBC paintings are on his mind this summer. Not satisfied that they accurately captured the essence of life between the birth of America in 1776 and the birth of Canada in 1867, he has put the original paintings back on his illustration board and is revising his view of history.
"I'm adding the detail and the colour that I should have put in 28 years ago," he said.
As he has for half a century, Lewis Parker is making history painting history.