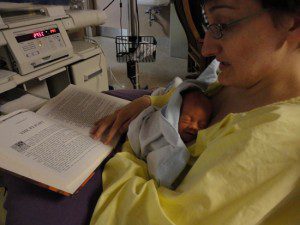 I received a photograph online from my son-in-law this week. It shows his wife – our daughter Whitney – holding two very precious creations. One is a copy of the play/book "Peter Pan." The second is her recently delivered son – Coen George Ross-Barris. The picture shows Whitney reading from the J.M. Barrie book in a hospital.
"All children, except one, grow up," author Barrie writes in Peter Pan.
Appropriate words she should be reading, it turns out, because our second grandson was born eight weeks early. You see, the Peter Pan reading in the photograph was going on in the prenatal ward at St. Michael's Hospital in Toronto. Under normal circumstances, mother would still be pregnant getting ready for a delivery of child around July 5. But it didn't work out that way. None of us is bothered by that fact. We're all just very thankful we live where most children – unlike Peter Pan – are allowed to grow up.
This all began about April 21, when Whitney went into premature labour. Her husband, Ian, rushed her to St. Mike's, whose ER people took things in stride – diagnosing the problem, reducing the pain and calming the contractions – but realized there was a larger problem. If she gave birth right away, there would be no preemie intensive-care beds available there. All the incubators and preemie teams were occupied at St. Mike's. The only available equivalent facility was 200 kilometres away in London, Ont.
"They're going to med-evac us to London," I remember Ian saying.
I gulped, waiting for what I expected might be the next words out of his mouth. But he didn't say, "And we'll have to mortgage our house to pay for the flight." Instead, he told us plans indicated that the next morning the hospital would take father-to-be and mother-to-be to Toronto Island Airport, load them aboard one of those EMS choppers and fly them to where a preemie bed was available, at St. Joseph's Hospital in London. They were there in 40 minutes. Four days later – April 26 – Whitney went into labour for real and preemie Coen was born at three pounds, nine ounces.
How then, you might ask, did she they back to St. Mike's so fast? Well, perhaps due in part to the medical system's preparedness, as well as the baby's stage of development (nearly 30 weeks), when he was born he didn't require any artificial procedures. Vital signs seemed fine. Mother suffered few ill effects at birth. And ultimately, a preemie bed opened up back at St. Mike's. So, this past week, Coen travelled by ambulance back to the Toronto hospital and ultimately close enough for Whitney to commute by streetcar to care for him, hold him and read him Peter Pan.
I must admit. I'm new to this preemie business. And it's been an education. For example, I didn't know that a fetus can be born as early as 21 weeks into the pregnancy with a reasonable chance of survival. In fact, on May 20, 1987, doctors in Ottawa delivered James Elgin Gill; he was the earliest premature birth on record – 128 days premature, 21 weeks and five days gestation – and today is doing just fine.
My guess is that a lot of that survival depends on the well-being of the mother. Among the techniques the preemie specialists have developed is something called "kangarooing." Several times a day, when the mother isn't preparing for breastfeeding or assisting nurses cleaning the baby, she is encouraged to recline with the newborn lying skin-to-skin on her chest and stomach. Apparently, in Malawi, where incubators are not abundant, skin contact with mom mimics the physical relationship that was prematurely interrupted. And in a world where, I've learned, one in 10 babies is born prematurely, the process not only promotes bonding, but also improves survivability.
More of my research yielded that Isaac Newton, Anna Pavlova and Winston Churchill were all born prematurely. That got me thinking about who our grandson might grow up to be: Like Pavlova, an innovative dancer? Like Newton, a brilliant philosopher? Like Churchill, a great statesman? The other day, when I visited him at St. Mike's, I did notice that his hands and feet were particularly active; he seemed to be flinging them off in all directions even in his sleep. I've also learned in the preemie ward, that our grandson has well-developed lungs (he didn't need the respirator and his system is absorbing oxygen at a great rate). That, combined with the fact that his mother is an actor/singer, his grandfather is a lecturing professor, and his great-grandfather was a national broadcaster, and, well maybe the philosopher/statesman category isn't out of reach.
But, of course, none of that matters. For as J.M. Barrie also had Peter Pan tell us: "To live … will be a great adventure."