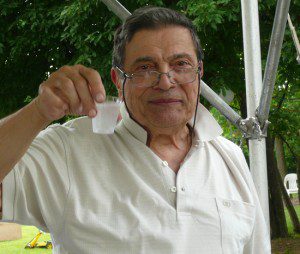 I remember the first time he spoiled us. My sister and I often travelled with our parents to New York City, where they had grown up. Until that time in the early 1960s, however, whenever we holidayed with relatives in the Big Apple, my sister and I had pretty much been turned over to our grandparents for entertainment and discipline. But this time was different. When we arrived, instead of the customary hugs and kisses from Yiayia and Popou (Greek for Grandma and Grandpa), there was this guy taking charge.
"Wanna go for a ride?" he asked us. And our Uncle George (my mother's baby brother) led us to the garage to see his late model (early 1960s) Chrysler convertible. It was salmon coloured. It had these massive tail fins. It even boasted the most modern of driving conveniences – a push-button transmission. "Watch this," George said. And he just pushed in the "D" button for "Drive" and away we went.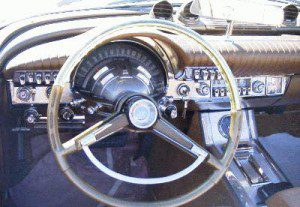 Well, this past weekend, my wife and I joined the rest of the family in the U.S. to celebrate the 80th birthday of my mother's baby brother – George Kontozoglus. That's right, the guy in the hip convertible became an octogenarian on June 22 and this was reason enough for all branches of the family to assemble and pay tribute. And even last Saturday, when the birthday cake was presented, Uncle George barely got the thank-you out of his mouth when his eyes teared up.
"I'm not big on speeches," he said. "I get very sentimental."
But then our Uncle George has never been one for talking. He spoke with his actions. And those actions very often worked in the nieces' and nephews' favour. In other words, he spoiled us rotten. Uncle George gave my sister her first party dress. He gave me my first electric radio, my first car model kit, and my first banana split. In those days, you see, such things as ice-cream parlours were exclusively an American phenomenon. But no visit with Uncle George in New York was complete without a trip to the amusement park (for rides on the bumper cars) followed by a stop at Baskin-Robbins for some of its advertised 31 flavours.
"Try this," Uncle George said as he led me to the counter where the server sliced a banana into a plastic boat and filled the rest of the space with as many different scoops of ice cream as I desired. Then, as I surveyed the array of nuts, hot fudge and every fruit topping under the sun, George added, "and the toppings are up to you."
I guess everybody has a favourite uncle. But I realize now what it as about our Uncle George that made him special. Sure, he took us away from the rest of the adults. Sure, he spoiled us. But ultimately what he did was allowed us to do things apparently on our own terms – such as choose an amusement park ride or what topping to put on a banana split. George gave us autonomy for the first time in our lives. And even if we ended up a little dizzy from the bumper cars or with an upset stomach from too much ice cream, it had been on our terms and not our parents'.
But the influence of our favourite uncle didn't end in childhood.
Partly because he was closer in age to us kids and also because he married later in his life than his older siblings (my mother and aunt) did, my cousins Barbara and Diane and my sister Kate and I had him pretty much to ourselves during those visits and others later on. Consequently, I remember the relationships born when we were younger lasted well into our adulthood. Uncle George always listened when others perhaps wouldn't give the time. In his own quiet way, he offered advice when our parents' view of things seemed skewed and arbitrary. His was probably not very different discipline than theirs, but I guess it was sugar-coated with an affectionate smile and more mentorship than advice with limits.
This weekend's 80th birthday celebration for our Uncle George felt more surreal than anything else. It hardly seemed possible that all those years could have passed. Here was the man who'd taken us for fun rides in his hip sports car and spoiled us with toys and sweets – seemingly just yesterday – now feted as one of the family patrons.
Among my favourite moments of Saturday's party came when my own granddaughter sang "Happy Birthday" to her great Uncle George. He melted, just like those scoops of ice cream and fruit-flavoured toppings. And though he's three-quarters of a century older than she is, I expect there's still lots of time for him to spoil her too.