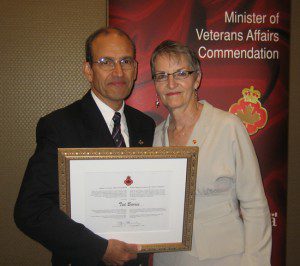 On July 27, 2011, the Minister of Veterans Affairs for Canada awarded 19 citizens his annual commendation. Traditionally, the award is "presented to those veterans … who, in an exemplary way, have contributed either to the care and well-being of veterans or to the remembrance of the sacrifices and achievements of Canadians in armed conflict."
Most of the 2011 recipients are veterans. Ted Barris, a civilian, also received the commendation.
His citation read, in part: "Ted Barris has made such exemplary contributions by generously giving of himself and so both benefiting veterans and making manifest the principle that Canada's obligation to all who have served in the cause of Peace and Freedom, must not be forgotten."
A government press release offered the following description of the event:
Nineteen citizens from Ontario were honoured today for their exemplary contribution to the care and well-being of Veterans and their remembrance of the sacrifices and achievements of our Veterans. The Honourable Steven Blaney, Minister of Veterans Affairs, decorated these individuals with the Minister of Veterans Affairs Commendation during a ceremony in Mississauga.
"After serving, many of Canada's Veterans have continued to provide outstanding service to their country, their communities and their fellow Veterans. They have truly been nation builders and have earned our undying respect and gratitude," Minister Blaney said. "It is equally gratifying to see other Canadians volunteer their time and efforts to give back to our Veterans. Today, we recognize their hard work and honour them."
Minister Blaney presented the Commendation to the following individuals: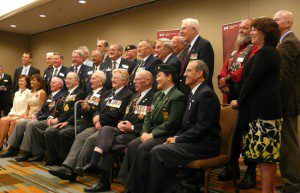 Ted Barris, Uxbridge; 
Donald Cameron, Etobicoke; 
Paul Cane, Drayton; 
Richard Carriere, Cobourg; 
Kristin Courtney, Oakville; 
Douglas Finney, Oshawa; 
Stanley Hicks, Dundas; 
Paul Hooper, London; 
Wayne Johnston, Whitby; 
HooJung Jones, Ancaster; 
Evelyn Kelly, Toronto; 
Donald Kerr, Port Perry; 
George MacDonell, Toronto; 
Alan MacGregor, Courtice; 
George McKiel, Toronto; 
Jack Myers, Wawa; 
William (Bill) Siddall, Wheatley; 
Fernand Taillefer, Barrie; 
Allan Williams, Oshawa.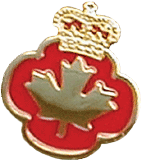 The Minister of Veterans Affairs Commendation includes a bar, which can be worn below official decorations on a Veteran's blazer, as well as a lapel pin for civilian wear and a certificate.
The Commendation is intended primarily for Veterans, but in some circumstances it may also be awarded to non-Veterans.