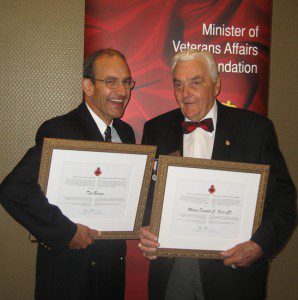 I walked among heroes, last Wednesday morning – eighteen of them. Several had fought in the Second World War. At least one was a veteran of the Korean War. A number had helped keep the peace in the Middle East, Africa and the Asia. Several others had served Canada as reservists. Almost all were veterans from a theatre of war or world hotspot. But nearly all – after serving Canada in uniform – had accomplished something more that had caught the attention of the Minister of Veterans Affairs.
"After serving," Minister Steven Blaney said at a recognition ceremony on July 27, "[these] veterans have continued to provide outstanding service to their country, communities and fellow veterans."
About a decade ago, then Governor General Adrienne Clarkson authorized the creation of a Minister of Veterans Affairs Commendation. It invited any minister of Veterans Affairs, each year, to recognize men and women, who, in addition to their armed forces service, had decided – once back in civilian life – to volunteer time and effort for other veterans.
There to receive his Commendation from the minister, last Wednesday, was Don Kerr, a veteran friend from Port Perry. Not only had he landed in Normandy on D-Day as a signals lieutenant, but he had also helped raise funds to create the Juno Beach Centre there, to ensure his comrades – living and dead – were commemorated. Then, in recent years, although retired as a businessman and politician, Don Kerr had extended that notion of remembering his comrades by preparing a Remembrance Day DVD and presentation for countless GTA schools and youth groups each Nov. 11.
"I didn't want any of those young people to forget what so many of my friends had died for, nor the freedom they had restored in Europe," he said.
Not long after him, during the Commendation ceremony, the minister's assistant called out George MacDonell's name, another veteran friend of mine from Toronto. Even before Canadian troops faced an enemy in France in 1944, George MacDonell had served with the Royal Rifles of Canada in the defence of Hong Kong in 1941; he was captured and spent four years under horrendous conditions in a Japanese prisoner-of-war camp. A true survivor, instead of turning his back on the entire episode, the one time sergeant has written several books, made pilgrimages back to battle site and persisted in keeping the profile of his fellow Hong Kong veterans high.
"Theirs is a story … of how their spirit triumphed," he wrote.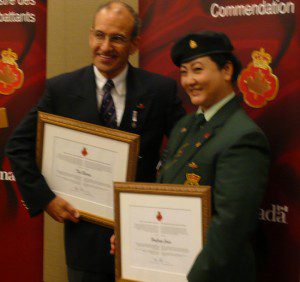 Not all the recipients of the minister's Commendation, last Wednesday, were veterans, however. Seated near me was a young woman, her younger brother and her parents. Dressed in the commemorative beret and green jacket of the Korea Veterans Association of Canada, HooJung Jones had an extraordinary tale to tell. Moved by the story of her Korean-born parents' survival of the Korean War, and by wartime experiences of the KVA vets she'd met across Canada, she decided to publish their accounts.
What makes "Canadian Our Heroes" so extraordinary is that in order to publish the book bilingually, HooJung had to hand craft prototypes of each Korean alphabet character so the book could be printed in Korean. As moved as we felt to witness her receipt of the minister's Commendation, she turned to me, during the ceremony, and said:
"I am inspired to be seated with you here today."
For you see, I too was fortunate to be called forward at Wednesday's ceremony.
"Ted Barris is a recipient of the Minister of Veterans Affairs Commendation," the minister's assistant said. And then he read the citation.
About a month ago, Jayne, my wife, and I were travelling in Europe. In fact, we still had 30 members of our Eastern European tour in tow in Berlin. We were a couple of days from returning home to Uxbridge when we received the message from Veterans Affairs. It informed us of the program that recognized veterans for their service to other veterans, but it said on occasion the commendation also went to non-veterans.
"I am pleased to inform you that you were nominated and subsequently chosen … to be among this year's recipients," VAC officer Lynn Jackson wrote. "Congratulations!"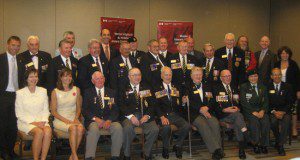 It's difficult for me to describe what happened next. Jayne and I looked at each other. Neither of us spoke for quite a few seconds. We were so stunned, you could have knocked us over with a feather. For the next month, however, we were told, the award had to remain a secret. Not even close family could know. It was a bit nerve-racking and overpowering. But not nearly as overpowering as the ceremony itself – sitting with some of the people whose stories I had recorded, whose achievements I had admired, and whose service had always humbled me…
Suddenly I was in their company receiving the same honour. It's a feeling I shall cherish as long as I live.