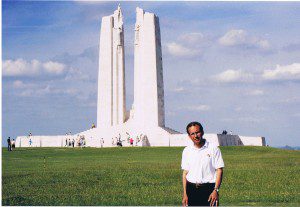 It was at Vimy Ridge, on Easter Monday, April 9, 1917, that 49 battalions – nearly 100,000 Canadian troops – rose from the trenches in front of No Man's Land and accomplished the impossible. Where, for two years, neither the British nor French Armies had succeeded in overcoming the German Army occupation of the ridge, the Canadians – in a matter of hours – managed to seize and hold the most strategic heights on the Western Front. Some say the even signified the birth of Canada as a nation.
On April 9, 2012, (the 95th anniversary of the battle) thousands will gather to pay tribute to members of the Canadian Corps who achieved this significant victory and proved to the world that citizens of a young nation could serve King and Empire and the spirit of Canada. For those who join Merit Travel Group's Ted Barris "Return to Vimy – April 2012" tour, we shall attend that special ceremony.
In addition to attending these historic anniversary events, those joining this 10-day tour (April 5-15, 2012), will make other First World War stops at Ypres and Passchendaele (in Belgium) and the Somme and Beaumont Hamel (in France). Then, to the French coast for stops at Dieppe and the D-Day beaches of Gold, Sword and Juno, where 15,000 Canadians spearheaded the Allied invasion to liberate northwestern Europe.
More information – itinerary, booking details, etc. – at the Merit Travel Group website:
http://www.meritvacations.com/index/vacations/Merit-Hosted-Tours/Normandy-and-Vimy.aspx