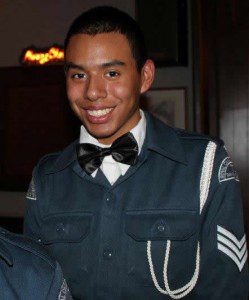 The young man stole the show, when it was my job to do it. I had just finished a 30-minute talk at a military dinner in Etobicoke. There were about a hundred young people in the audience, members of the Royal Canadian Air Cadets (RCAC) No. 700 Squadron. I thought my talk – about the romance of aviation and the roots of national service – had gone well. I had managed to capture and keep the attention 12- to 18-year-olds. The end of my talk brought a genuine thank-you from a young warrant officer. Then a young man with sergeant's stripes on his sleeve rose to speak.
"Four years ago, I was an irresponsible kid. I didn't get along with my parents. I bad-mouthed everybody," he said. "But today in the cadets it's just the opposite."
Sgt. Isaac Ramos was about to step down as the President of the Mess Committee (PMC). But standing there in front of his peers and holding the gavel of authority, the teenager wanted to make a couple of points in departing. He wanted to thank the Royal Canadian Air Cadets and the league that sponsors them for the impact on his life. But he also felt motivated to encourage the younger cadets to follow in his footsteps.
"Get involved," Ramos said. "It'll make a difference in your life."
Throughout the mess dinner, the cadets sat at banquet tables and enjoyed prepared meals and drinks (Pepsi and ginger ale). The young men and women engaged in mock arguments and dispensing of justice over such things as illegal passing of notes, cross-table conversation and improper use of cell phones. Meanwhile, I sat at the head table with members of the sponsoring committee and the commanding officers (adults) who direct the RCAC programming. I learned that the Department of National Defence funds about 450 squadrons like No. 700, in total about 23,000 Air Cadets. During four years of membership, cadets gain instruction in citizenship, leadership, survival training and the basics of aviation and aeronautics.
"The pinnacle of cadet training are gliding and flying scholarships for qualified cadets," the CO said.
"That's what these young people strive for?" I asked.
"That's right," he said. "About 20 per cent of private pilots in Canada are ex-Air Cadets."
Which means that the extracurricular studies, physical training, support of the annual Poppy campaign and other community service activities all come from the heart of each squadron's youth ranks. And if Sgt. Ramos was to be believed, the RCAC also cultivates tomorrow's leaders.
I thought about such tangible benefits to society in the wake of the comments of a Toronto councillor this week. Coun. Doug Ford (the Toronto mayor's brother) wants the Toronto district school board to circulate brochure material published by the creators of the Ultimate Fighting Championship (UFC). The brochure, according to the Toronto Star, touts something called UFC Community Works, a program promoting "discipline, respect, teamwork, honesty, time management and physical fitness." In other words, the Toronto councillor would like to see the TDSB embrace the UFC's promotional values, while bringing its commercial values of no-holds-barred pugilism into Toronto schools.
I suspect most have seen these so-called UFC exhibitions of strength and endurance during which opponents conduct slug fests with the rewards going to the last man standing. The marriage of that sort of commercial exploitation of violence and the UFC's endorsement of discipline and time management rang rather hollow to me. But then, in a civic atmosphere that would prefer to see fewer library hours and less public swimming time in favour of an international amusement park on the Lake Ontario shoreline, why should anyone be surprised? One hopes the TDSB recognizes the wolf in sheep's clothing and refuses UFC entry to its hallways and students' minds.
When a lot of us were younger, there were plenty of extracurricular institutions where we could find the answers to questions about relationship building, appropriate behaviour and positive attitudes. Some found their way via Boys Scouts or Girl Guides. Others learned leadership skills in Red Cross swimming programs or team-building at local outlets of the YMCA or YWCA.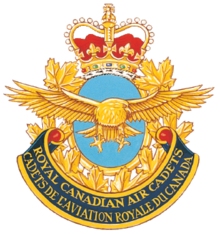 I found Scouts uninspiring and didn't have a YMCA close by. I found inspiration from intramural hockey and baseball and a public school coach named Mike Malott. He taught us how to play hard, depend on each other and win or lose with dignity and pride. "It's about giving, not about getting," Coach Malott always said.
Clearly, young Sgt. Ramos had chosen to explore his options in the Royal Canadian Air Cadets. There was no guarantee he would ever become either a civilian or military aviator. But along the way he had learned respect for his peers, a love for his country and a strong sense of himself.
"I owe everything to the Cadets," he said.