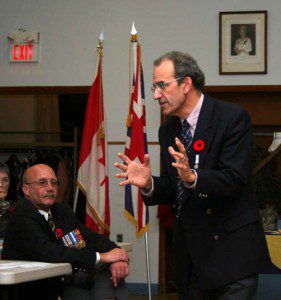 As part of its fall 2012 program, the Women's Canadian Club of London has invited Ted Barris to address the membership on Thursday, November 8, 2012, at London's Centennial Hall. He will speak about the job of getting veterans to speak about their experiences; his talk is based on one of his recent bestselling books, "Breaking the Silence: Veterans' Untold Stories from the Great War to Afghanistan." Copies of a number of Ted's books will be on hand for sale and autographing.
When: 2 p.m., Thursday, Nov. 8, 2012.
Where: Centennial Hall, London, Ontario.
Contact: Allister Cameron, a.c.cameron@sympatico.ca