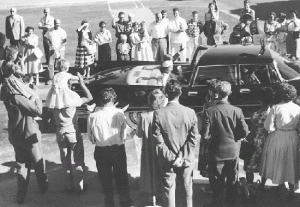 Buried away in a dusty, old photo album somewhere, a photograph I took with my Kodak Brownie "Holiday Flash" camera sits mounted in those black, triangular photo corners. There might actually be two or three photos in that series. But the best of them – if you look very closely at the snapshot – shows a long limousine carrying an apparently important person who is waving in the middle of the picture. The only sound I remember – above the nearly deafening cheering around me as I framed the shot – was my mother entreating me.
"Take it now, Ted," she said. "There she is!"
The problem, you see, was that by the time Queen Elizabeth's limousine passed our location – somewhere in east-end Toronto that morning in 1959 – we had been pushed back by the police so far from the roadway and people nearby had crowded in so densely in front of me that all I had in my Brownie viewfinder was a sliver of space in the middle of my shot and a split second to click the shutter in order to capture the image.
Today, during the 60th anniversary observances of Elizabeth's accession to the thrown (her father George VI died on Feb. 6, 1952), one would be hard pressed to prove that the picture I snapped back in 1959 showed Queen Elizabeth II during her official tour of Canada.
Perhaps that unsatisfying experience explains why – ever since – I have never really become a Royal watcher. Just like my Brownie camera photograph I've always felt distant from the Queen and her family. In fact, ironically, it was prior to that 1959 visit, which Buckingham Palace and the Diefenbaker government preferred to call a "Royal tour," that at least one other Canadian wasn't particularly impressed. Just before the Queen arrived, NBC's "Today Show" interviewed CBC personality Joyce Davidson, who is reported to have commented that as "an average Canadian" she was "indifferent" to Elizabeth's upcoming tour. If they'd interviewed me with my box camera photo of the Queen in a distant cavalcade, I think I would have agreed with Ms. Davidson.
Oh, there are plenty of reasons why I might have become an avid fan of the Royals. During a family trip to Europe in 1964 to visit relatives in Greece, we stopped for two weeks of holidays in Britain. I loved the U.K. Whether it was Soho, Oxford or the Shakespearian theatre in Stratford-upon-Avon, I fit right in. I think I felt more at home seeing Lord Elgin's marbles from the Greek Acropolis in the British Museum than I did visiting the actual Parthenon where they'd come from in Athens.
Add to that, my mother-in-law (a Scot from Nova Scotia) never missed the Queen's Christmas message; nor, consequently did my wife or I. So, there is every reason I should have become a dedicated fan of the Royals, if not a monarchist. But I never did.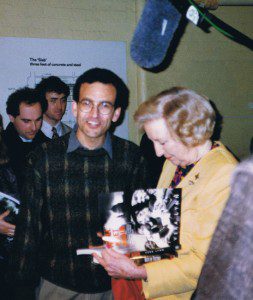 Despite my disconnect with the House of Windsor, I have had a soft spot for another unofficial member of British royalty. Always a student of history, I grew up reading about, watching film of and listening to recordings of Dame Vera Lynn singing all those wartime chestnuts – "White Cliffs of Dover," "When the Lights go on Again," "There'll Always be an England" and "We'll Meet Again." I had often been fascinated by the way the British songstress seemed to embody the spirit of England – its indomitable optimism, quiet courage, patience and even its sense of humour – during the Second World War. Then, in 1995 we had a chance meeting.
My wife and I were enjoying an anniversary present from my parents – a week's travel in the U.K. My sister and cousins had joined us and, on our second day holidaying in London, they noticed that Dame Vera was about to announce a fundraising and awareness-raising campaign to assist veterans in need. It was to take place in the historic Cabinet War Rooms under London, where Winston Churchill had endured the darkest days of the Battle of Britain and the Blitz during the war.
Armed with a copy of a book my father and I had co-authored, "Days of Victory," I asked if I could meet the lady and give her a signed copy of our book. Dame Vera's handlers agreed and there I was in front of lights, mikes and news cameras presenting "the Forces' Sweetheart" with Dad's and my co-authored book.
"To Dame Vera Lynn," I inscribed on the title page, "who made the lights go on again all over the world."
Whereupon she took a copy of her latest book, "We'll Meet Again," and signed it:
"To Alex and Ted. Yours, Vera Lynn." And then she added a hug for emphasis (and the news cameras still clicking and rolling on the entire spontaneous moment).
Now that was a picture of royalty worth cherishing.