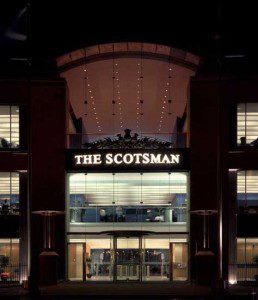 It happened the year we celebrated our 20th wedding anniversary. To mark the occasion, my sister, my cousin and my parents had all arranged for my wife and I to travel to the U.K. for a week. And on the morning of March 8, 1995, we walked out of our hotel on Princes Street in Edinburgh, Scotland, to buy the daily newspaper, The Scotsman. We approached the newsies hawking copies of the paper. They were all women.
"Help celebrate this important day," the women newsies shouted, "It's International Women's Day."
Well, of course we bought the newspaper. But not without talking to the saleswomen about what was going on. It turned out that The Scotsman's new owners, David and Frederick Barclay (who had just purchased the newspaper for £85 million) had consented to an employee initiative to hand over all the key roles at the newspaper – publisher, editors, columnists, etc. – to its female staff for a day, March 8, 1995, International Women's Day (IWD). It was the first time in the paper's 179-year history that the women on staff had total control of the publication. That was 18 years ago.
The other day as I chaired an editorial meeting among student reporters planning stories for the coming week, several of the women said March 8 was coming and asked if they could cover IWD events. I said, sure, provided they addressed the significance of the day and perhaps gave our readers a progress report on advancements for women since the birth of IWD. I reminded them that it was originally International Working Women's Day, born in socialist nations and celebrating women's social, political and economic achievements in the first years of the 20th century.
According to IWD websites, among the first North American pro-women demonstrations took place on March 8, 1908, when 15,000 women marched in New York City, demanding shorter hours at work, better pay and the right to vote. Two years later, women organizers staged an International Conference on Working Women in Copenhagen, Denmark. In 1911, delegates from 17 nations endorsed a manifesto for women and in 1912 International Women's Day was honoured all over the world, with March 8 eventually becoming the official date. Today 27 countries recognize IWD with a national holiday. Not Canada.
In Canada, on some fronts, we can be proud of enshrining women's rights. In the first place, for example, most First Nations cultures treat women as equals up to and including the choice of chiefs. In 1897, according to the Canadian Research Institute for the Advancement of Women, Clara Brett Martin (a Canadian) became the first woman in the British Empire to practise law. In 1916, suffrage activist Emily Murphy became this country's first woman judge.
Two years later, women won the right to vote in federal elections, but not until 1921 did Canadians elect their first female Member of Parliament, Agnes Macphail. It's a good thing they did because she successfully introduced old age pensions. In the 1930s women in Canada advanced and equalized divorce laws for women and men, successfully introduced family planning clinics, and improved minimum wages for all workers. And during the Second World War – with women moving into the paid labour force so that men could enlist – Saskatchewan MP Gladys Strum campaigned for women's salaries.
"No one has ever objected to women working," she said. "The only thing they have ever objected to is paying women for working."
In 1967, I remember when women student protesters successfully integrated women into the U of T's Hart House, where previously they had paid fees but were never allowed to enter. In 1970, an extraordinary Royal Commission on the Status of Women in Canada offered myriad recommendations to assist women in every aspect of Canadian society.
In 1972 Rosemary Brown became the first woman of African-Canadian background to be elected to a legislature. In 1974 the RCMP hired their first female officer. In 1983 the Canadian Human Rights Act prohibited sexual harassment in the workplace. In 1988, Bertha Wilson, the first woman Justice of the Supreme Court of Canada, assisted in striking down Canada's restrictive abortion law.
On the other hand, the murder of 14 women students at l'Ecole polytechnique in Montreal in 1989 remains an indelible stain on Canada's record of attempting to prevent violence against women. On this issue and numerous others there is plenty of room for advancement and change.
By the way, on that International Women's Day acknowledged by that newspaper in Edinburgh newspaper back in 1995, the publishers made one additional major concession. Not only did women get the say from editorial right down to street-level sales that March 8. But for that one day, they officially changed the name of the paper from The Scotsman to The Scotswoman.
For the record, however, it took another five years – until 2000 – before The Scotsman appointed Rebecca Hardy, the paper's first and only (so far) woman editor-in-chief.