She does it every Wednesday night. By about midnight, my hockey buddies and I have put in a recreational hour-and-a-half scrimmage at the arena, showered, changed and landed at our favourite watering hole, Jersey's in Uxbridge, Ont. Most of us have put in very average performances on the ice. Others claim they produced stellar goals or stand-on-their-head saves. But at the bar, thanks to our server, Tracey Surette, everybody gets the star treatment. Before any one of my teammates is three or four steps inside the front door, she's got his favourite brand already in hand, the lid popped and the liquid poured.
"How're you doing," she always says with a smile. "Nice to see you."
Of course, it's what visiting a local bar has become ever since that hit sit-com, "Cheers," came on television back in the 1980s. Tracey not only "knows your name," but she also knows your brand and how you like it served – in the bottle, in a pint glass, or in what my Oilies teammates and I have come to know as "a Stu-ey."
The point is I never stop marvelling at servers such as Tracey and their ability to remember every customer's name, every customer's preference and every customer's story. As simple a skill as it seems to be, it takes a special knack. Remembering is not just an art. It's a science too.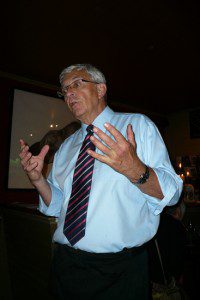 Over this past weekend, my wife and I travelled to Prince Edward County where we witnessed the same marvel of service memory in action. On Saturday night, we visited one of the local eateries – the Milford Bistro – and the owner/chef, Chris Pengelly, exhibited the same skills. The restaurant was full – perhaps 20 or 30 people – and he knew every patron's name, where everybody was from (whether local or tourist) and even though it was a prepared menu, what people's preferences were from the first glass of wine to the final cup of coffee – black, with cream or decaffeinated.
It must be in the genes of those in the service industry. They remember everything, because their livelihood depends on it. Another summertime memory I have involved the operator of the Open Window Bakery delivery truck. Several times a week, those of us in cottages along Lake Simcoe with a hankering for baked goods would come running from the lakeshore to the road to buy bread, donuts or fresh pastry from the back of his suburban truck. In the course of every trip, that driver made probably a hundred stops along the lake and served a thousand customers. And yet whenever he stopped near our cottage, he beeped the horn extra hard. He knew my grandfather, Ted, was a sucker for his challah bread.
"Come on, Ted," he would shout to my grandfather. "I'm down to my last loaf. I saved it just for you."
I've often wondered whether people as experienced as those in the service industries ever lose their car keys? I've wondered whether servers with such capacity for detail ever need a GPS? I've also wondered what happens if they run into the people who are their regular patrons away from the restaurant, do they have trouble remembering their names because the face is in the wrong context? And do they have systems, such as mnemonics, for remembering things about their customers? You know, as in so-and-so is a short guy and he always likes his beverage in a short glass.
Back in the 1960s, when I worked to earn money for school tuition and other things, one summer I took a job at my uncle Angelo's family restaurant, the Double-T Diner, just outside Baltimore, Maryland. I remember my aunt Virginia was the hostess greeting people at the door of the diner, often six nights a week. I marvelled at her ability to remember the names of every couple, every family, and every State Trooper stopping for a coffee. She also remembered the favourite table, booth or counter stool each of them preferred. Her memory of people's habits and preferences was photographic.
As a busboy at that diner, all I had to remember was to keep tables clean, how to wash dishes and which waitress wanted what condiment brought lickety-split. I marvelled at the waitresses' abilities to keep orders straight when they worked half a dozen tables at a time. And they always remembered every detail … except that they'd promised to share some of their tip money (gathered over the summer) with us lowly, lesser-paid busboys. They remembered everything but that.
The truth about our server, in town at Jersey's, is that none of my teammates, nor I, remember much more about Tracey than that she's been a regular bartender there for about five years, that she's the mom of a couple of growing kids and that she loves to garden. If the tables were turned, for the life of me, I couldn't tell you what her favourite beverage was.
The important thing is that each Wednesday she remembers ours.