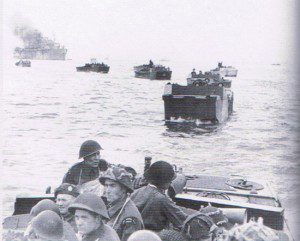 During a return visit to speak to the Scarborough Historical Society, Ted Barris will pay tribute to a group of veterans whose unique experience changed the complexion of the Second World War. Based on his bestselling 2004 book, "JUNO: Canadians at D-Day, June 6, 1944," Ted looks at some of the unheralded Canadians who made the greatest military gamble of the Second World War succeed. Operation Overlord depended on the lightning strike capability and efficiency of all three Allied armies – U.S., British and Canadian – on D-Day. Ted Barris's definitive book on the Canadian story that day will be the focus of this year's talk.
When: 7:30 p.m., Tuesday, Oct. 22, 2013.
Where: Bendale Library, 1515 Danforth Rd., Scarborough, Ont., 416-396-8910.
Contact: Jan Howe, 416-759-6052, janicelhowe@sympatico.ca