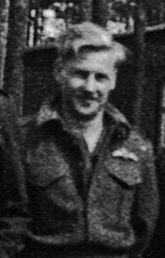 Remarkably, in the final days before the breakout, the anti-tunnelling guards at Stalag Luft III, didn't appear to notice the diminished movement of POWs outside and around the barracks huts. Perhaps the repeating nighttime snowfalls and early spring chill in the air, helped disguise the fact that kriegies all over the North Compound were busily focused on indoor escape activities. The product of more than a year's work from Tommy Guest's tailors, Des Plunkett's mapmakers and Al Hake's compass builders, was now being distributed among the 200 men on the final escape list.
Just 22, and only a year inside the wire, George Wiley was typical of the kriegies in final preparation mode. He'd flown Kittyhawks (with 112 Squadron) in support of the British Eighth Army in Tunisia where he was shot down in March of 1943. Welcomed into the escape committee as a penguin working with John Colwell dispersing sand beneath the raked floor of the theatre, with "Harry" virtually completed, Wiley then moved from the basement to the stage. With subtle hints about his extracurricular activity in X Organization, that winter he wrote home to his family in Windsor, Ontario, Canada.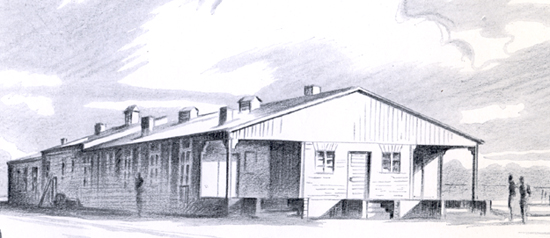 "I've got an important part to play in one of our kriegie plays, and I'm a bit nervous about doing my part well," he wrote. Then, he signed off, "May see you sooner than expected."
RCAF observer James Wernham had served in both the Commonwealth air force and the escape committee among the longest. At 25, he'd participated in the first thousand-bomber raid on Cologne, Germany (Operation Millennium); but he'd been shot down over Holland about the time the Germans first moved captured officers into Stalag Luft III. He discovered the way to boost his own morale and that of his fellow kriegies in the prison was working backstage and on-stage at the North Compound theatre.
James Wernham and George Wiley would exit the North Compound through Tunnel "Harry" 32nd and 33rd respectively.
In Hut 112, Wiley prepared himself for his first escape attempt. He approached his roommate Alan Righetti, handing him his watch and some personal items; he asked Righetti to pass them along to his mother back in Windsor if things didn't work out. Righetti, a veteran of earlier escape attempts, joked that Wiley would likely be home before Righetti; still, he accepted Wiley's belongings and promised he'd fulfill the obligation.