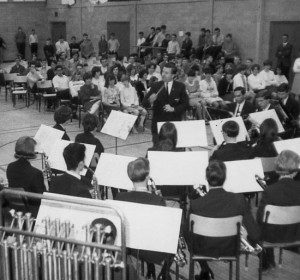 I really had no idea what was going on. I was a long way from being in the front row, or being in the know. As a member of the supporting cast, I didn't really understand the point of the exercise. But then band leader John Rutherford invited me down to the front where he stood and instead of having me play my instrument, he asked me to listen to everything from where he stood. And after he led the band through the same musical number again, he explained.
"You see, Ted, while you're going um-pah, um-pah, um-pah, um-pah," he said imitating my trumpet part, "the rest of us are down here playing Howard Cable's 'Newfoundland Rhapsody.'"
I had to admit, sitting in the back row of the third trumpet section of the school band, I had no idea what the rest of the student musicians were playing. I was just reading my part as diligently as possible, making sure I didn't lose my place in the music and (most important) ensuring I didn't play any of my "um-pahs" in the wrong place. John Rutherford knew I'd never amount to much of a trumpet player, that I had achieved in brass-instrument performance terms the equivalent of the Peter Principle. More important he understand that, up to that point, the orchestral results of our rehearsal were kind of lost on me. But in that sudden Eureka moment, our band leader and music teacher, Mr. Rutherford, realized if I could see and hear how I was contributing, that I would realize the value of my input, in short, why I mattered.
Memories of Rutherford and our Agincourt Collegiate Institute concert band came rushing back to me this week as I read some rather disturbing statistics about the decline of music in Ontario elementary schools. For example, according to a report on "The Arts in Ontario Schools," just issued by the People For Education (PFE) lobby group in Toronto, while in 2012 nearly half of all grade schools in the province had a teacher dedicated to instructing music, last year (2013) that number slipped to just above 40 per cent. Is that significant? Sure it is when you consider that in the late 1990s as many as 60 per cent of schools had specialist music teachers such as Mr. Rutherford.
The study goes on to say that those of us in the Greater Toronto Area may have it better than in rural Ontario. It points out that about six in 10 GTA schools have some kind of music instruction going on. In northern Ontario learning about bass and treble clefs, key signatures, melody and harmony is restricted to just over a quarter of all schools. And while the study is designed to sound an alarm about how music training has declined, Annie Kidder, a spokeswoman for PFE, warns that a fading music curriculum may also have an economic impact on society.
"When you talk to people in business now," she told Canadian Press, "they feel that capacity to think creatively, to innovate, is a core part of being an entrepreneur – being able to lead a change in a knowledge economy." In other words, Kidder says music gives kids 21st vocational century skills.
I wholehearted agree. Anybody who can read music charts, pick up tempo, translate that to a motor skill and make the results come to a musical conclusion, must have an arithmetic capacity. And that can't hurt when it comes to deductive reasoning or motivational capacity either. Good musicians can certainly make successful business leaders.
But I think the value of music goes beyond quarter notes and time signatures. Music, some say, also heals. I know a dozen years ago, when my own father suffered a series of strokes in the last year of his life, resulting in aphasia and limiting our ability to communicate with him, that music helped us get through to him. If we played a bit of Jean Sibelius or Benny Goodman into his headset, that music almost always brought a smile to his face and a sense of calm to his demeanor.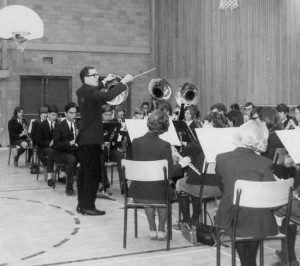 Just this week, Toronto played host to a conference on music and health research. Dr. Jane Edwards, who works with neuro-scientists in Europe, told CBC Radio that her members are exploring ways in which music is used as a standard treatment against depression and even as means of assisting young people to fight cancer.
"Teenagers in music therapy have an increased resilience against the disease," she said. "Doing such things as music videos during traditional cancer treatment, helps them get back to school and get on with their lives."
Whatever other tangible things music delivers, as a young person, I will never forget how maestro John Rutherford and his music teachings gave me a sense of self-esteem and belonging that sitting in the back row of the trumpet section had always escaped me.