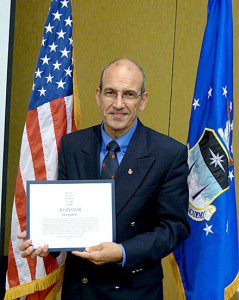 The Great Escape: A Canadian Story has received its first recognition in the United States. In late August 2014, members of the Stalag Luft III Prisoners of War Association in the U.S. presented Ted Barris with a "Certificate of Honor" for his work on publishing the historical account of the famous 1944 breakout in the Second World War.
Barris delivered the keynote at the association's annual reunion, this year in Colorado Springs, Colorado. Then, during the reunion's formal banquet – featuring the parading of the colours, the lighting of candles in honour of the fallen, and recognition of service to the veterans – the U.S. reunion co-chairs Marilyn Walton and Mike Eberhardt (both the offspring of former Stalag Luft III POWs) presented Certificates of Honor for what the association called service above and beyond.
They recognized five civilians, including: Mary Elizabeth Ruwell, an archivist at the U.S. Air Force Academy; Ben van Drogenbroek, a Dutch researcher; Val Burgess, an American oral historian; Marek Lazarz, the director of the Stalag Luft III Museum in Poland; and a Canadian author/historian whose writing, they said, has brought valuable attention to the Stalag Luft III story… Ted Barris. They handed recipients only copies of the certificate, because the originals will be housed permanently at the U.S. Air Force Academy archives in Colorado Springs.