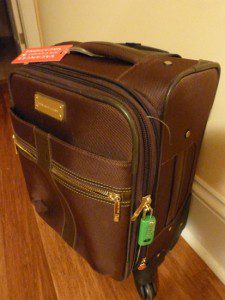 It was just past 6 a.m. I was rushing through the Calgary airport to catch a flight to the U.S. a few weeks ago. I was relieved when I found nobody in front of me at the United Airlines check-in. I rustled up my passport and sighed with relief that I'd probably get to the gate in plenty of time. The ticket agent scanned my credentials and took out a tag for my one piece of luggage to be checked to the airplane's baggage compartment.
"How would you like to pay for this?" she asked.
"Pay for what?" I asked.
"It's $22 for your checked baggage."
"I'm only checking one bag," I protested.
Out came my overwrought credit card. And with much distain I pushed it across the counter to pay stowage for my one and only piece of luggage. But that wasn't the end of the assault on my sense of excitement for a trip to Colorado to speak to a veterans' group. I then had to clear U.S. Customs, where they needed to know whether I was importing tropical plants, packaged meats and/or a 105-millimetre Howitzer. No. No. And no. Finally, I had to give them the address of the hotel where I'd be staying in Colorado. When I dug out the name and keyed it in, the computer didn't recognize it and refused to complete my Customs admission. I threw my hands in the air, showing enough frustration that an agent came along, recognized my predicament and gave me an out.
"Just make up the name of a hotel, say, the Colorado Hilton," she said, "and it'll accept you."
I didn't have the nerve to ask her, "Does Homeland Security know I'm making this up?"
With my checked bag paid for and my Customs form fabricated, I arrived at the security area. They wanted my laptop out, my shoes, jacket and belt off and everything out of every pockets. I remarked to a guy in the line behind me that I might as well have come to the airport naked to get through security; then I'd only have had to dress once this day. He laughed, but the grim-faced security guy didn't. He made certain to go through everything in my possession and after it all had the nerve to say, "Have a pleasant trip."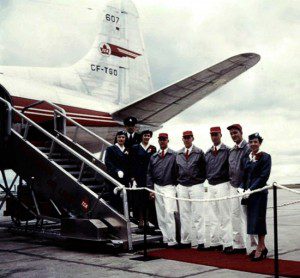 Pleasant? Once upon a time air travel was truly an adventure. Anticipating a trip in a passenger jet filled my days prior to the flight. Then, on the day we travelled, I was exhilarated at the chance to dress up for the occasion. Yup. Nothing but Sunday best for a trip on Trans-Canada Airlines (later Air Canada). Seats seemed huge. Frills were plentiful. Stewardesses… sorry flight attendants, seemed there for the sole purpose of serving me hand and foot. Meals were served on china plates with real cutlery. I was so excited that I even took photographs on my Brownie camera. But that all went the way of the dodo bird with the demise of Wardair about 1989.
And it's been steadily downhill ever since. Flight attendants' genuine smiles went away, because most airlines busted their unions. In-flight meals went away because they cut into airline profits. In fact, most in-flight accessories went away, unless you were prepared to buy them. And now they won't even accept cash; it's credit card or nothing. Finally, 9/11 happened and everything fun about air travel went south forever.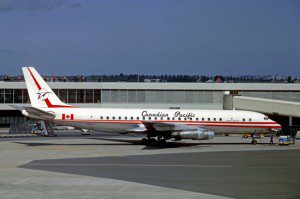 The last time I recall a genuinely exciting air journey was 1961, when our family – Mom, Dad, Sis and I – travelled with Canadian Pacific Airlines to the sunny south. The trip seemed to be going great. We were en route to Mexico for Christmas holidays. But the first leg of our journey out of the frigid north was through O'Hare and Midway airports in Chicago. The airline assured us we had plenty of time to get from one airport to the other to connect with our Aero Mexico flight south. But as we approached the departure lounge, we heard them announcing last call for embarkation. Then, as we ran to the gate (including across an outdoor, snow-blown tarmac) we spotted our luggage heading away from the plane they were holding for us.
"Never mind," Mom insisted. "Getting on the flight is all that matters."
It took our bags the better part of a week to catch up with us in Mexico. I don't know which was under greater stress – the airline to deliver our luggage or my dad's blood pressure. But since in Mexico we really only needed shorts, T-shirts and bathing suits, it really didn't matter. I always remember Dad lamenting, "Air travel ain't what it's trumped up to be."
I'm kind of glad he didn't have to face air travel today. This week's decision by WestJet to install a general $25 checked bag charge would have put him over the edge.