Early in May, 70 years ago, a Second World War glider pilot named Martin Maxwell tasted freedom for the first time in nearly eight months. On Sept. 17, 1944, during his second airborne operation, he had delivered British soldiers and equipment in a controlled crash landing near Arnhem, Holland, during the Operation Market Garden, only to be wounded and captured days later. But on May 1, 1945, with the Germans surrendering all over Europe, Maxwell regained his freedom.
"A British tank came into our POW camp," he said, "and we were liberated."
Martin Maxwell, now 91 and living in Toronto, joined a tour I've been leading, this week, to observe the 70th anniversary of the Allies' liberation of the Netherlands in 1944-45. He and his wife of 49 years, Eleanor, and 50 other travellers have relived moments of the Dutch liberation all week long.
Allied forces would not secure complete victory in Europe until May 8, 1945. Even with the war officially over there, Maxwell found ways to assist the oppressed people he encountered in former Nazi-occupied Europe. To speed their way home, he and a friend traded a navigation watch to a Russian officer for a jeep and six containers of fuel. They packed the jeep with biscuits and cheese and soon came upon a camp adjacent to the Bergen-Belsen concentration camp.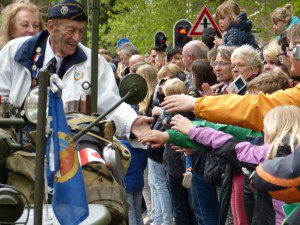 "In a small corner of the camp, called Kinder Heim (children's home,) we found dozens of children dead and dying. A little girl ran up to my friend, threw her arms around his leg and called out, 'Papa! Papa!'"
A woman in the home informed Maxwell that Hannah, this little girl, thought anyone in uniform was her father. Maxwell promised to return the next day with food and provisions for the children. He even traded four cigarettes for a doll he planned to give to little Hannah.
"The next day, we handed out the food and water," Maxwell said. "And I searched for the little girl to receive this precious doll. A woman emerged shaking her head. Hannah had died in the night."
On Monday this week, both Martin Maxwell and a second Canadian veteran travelling with our tour, Harry Watts, left paper Canadian flags on the graves of fallen comrades at Oosterbeek War Cemetery. They gave interviews to radio and television reporters from across Europe and North America. And they participated in the annual Dutch evening of Remembrance.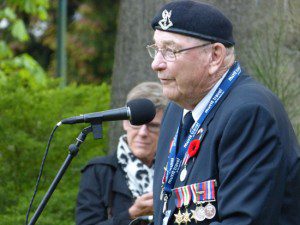 Every May 4, citizens of every community in the Netherlands walk in silence from 7:30 to 8 p.m. to remember those soldiers and civilians lost in the five years of Nazi occupation. Then – amid anthems, prayers, dedications and pleas for peace hereafter – the Canadian vets were invited to reflect on their actions 70 years ago.
"We were all young volunteers. I was only 19," Harry Watts said. "Many of us had connections to family back in Europe. So, it seemed pretty simple: We came here to Holland to liberate our families."
In fact, Harry Watts's immediate family ran a shrub and tree nursery, near Ridgeville, in south-western Ontario. He'd grown up walking behind horses on the farm, so when the war broke out and he enlisted, the idea of serving on the ground with infantry didn't appeal to him. At Camp Borden he noticed military tank crews and transport drivers coping with the mud, while motorcyclists worked high and dry on clean pavement.
"I made some inquiries and learned that dispatch riders were all volunteers," Watts later wrote in a published book, and "first thing Monday morning I put my name on the list."
Exactly a year later, November 1943, Harry Watts came ashore with the Canadian Army in Naples, Italy. And for the next year, he rode his motorcycle up and down and back and forth on the Italian peninsula transporting secret documents, carrying pay for Canadian soldiers and escorting convoys of troops moving to the front lines.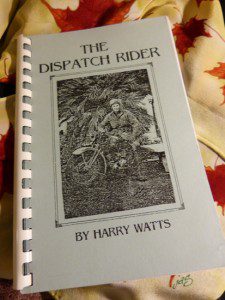 Then, in February 1945, the Canadian army secretly transported Watts and many key 1st Division troops to north-western Europe to join the liberation of France, Belgium and Holland. Liberation for Harry Watts, however, came many years later. After running a nursery and a trucking business and raising a son and daughter with Leila, his wife of more than 50 years, about the year 2000 she made a retirement suggestion.
"Why don't you tell some of your wartime experiences to young people?" she said.
In 2001 he published "The Dispatch Rider" and has since sold nearly 2,500 copies through Alert Press. Not only does he tell young people his stories of service in wartime, but he also speaks about the importance of responsibility when he presides in Canadian citizenship court, or does media interviews. On Tuesday evening at the Dutch Remembrance ceremony, he spoke to thousands of residents in Baarn, Holland.
"When it all ended 70 years ago," Harry Watts said, "all we could think about was going home. Now, like it was then, Liberation Day was a lovely day."