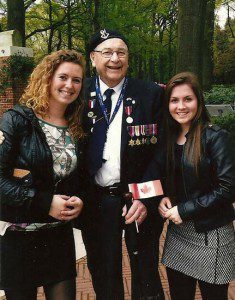 There were two young women in his audience, suddenly captivated by what he had to say. He offered words of reflection, remorse and remembrance. Last spring, Harry Watts, in his 92nd year, had travelled to Holland to pay homage to his fallen comrades and to join in the festivities marking the 70th anniversary of the liberation of the Netherlands. During a commemorative event in the Dutch town of Baarn, Harry was asked to address the assembly.
"We were volunteers," Harry told the thousands gathered in the town's central park. "Because a lot of our parents and grandparents had come from Europe, we came here to, in a way, liberate our families."
When the speeches, anthems and wreath-laying concluded, the townspeople mobbed Watts and the other Canadian veterans. Many made gifts of their tulip bouquets, others just hugged and kissed them. But these two women just wanted their picture taken with Harry Watts. And then they disappeared into the throng of well-wishers. Sometime later, as he returned to his daily activities home in Kitchener, Ont. – working as witness in immigration court, preserving peaches, and raising funds and awareness for service dogs, Watts received a letter in the mail.
"Dear Mr. Watts," the letter began. "The first thing that I will tell you is that my English is not really good. I hope you will understand my letter. I have been searching for so long to find the man in the picture we took. And finally after four months, I have your name."
Her name was Monica Visser, of Herkendam, Holland. After the photograph was taken during that May 4, 2015, Silent March ceremony in Baarn, she and her friend Kim, began contacting the hotels around the country to try to find the veteran in the photo. Monica indicated that she'd learned about the veterans' busy schedules during the Liberation ceremonies and realized how difficult it might be to get together again. In her letter she said that she wanted to hear some of his stories of war and peacetime.
Had she succeeded, Monica Visser would have heard that Harry grew up on a farm near Fonthill, Ont., where Harry loved working with the horses his dad trained to cultivate the shrubs and flowers of his nursery. Harry would have told Monica about enlisting at Hamilton in 1942, about training to become a motorcycle (or dispatch) rider with the Canadian Army, how he'd sailed overseas to England, joined the campaign to liberate Italy in November 1943, and finished his wartime service near Amsterdam, where he learned the Germans had capitulated.
"The morning of May 4 (1945) has a special place in my memory," Watts wrote in his book, The Dispatch Rider. "As word spread (the war was over) the first reaction was a big 'Yahoo,' and then the whole camp went quiet as we all realized we'd come through this terrible time in one piece."
But Monica never had the chance to hear Harry's stories. The crowds that night in Baarn and short picture-taking moment didn't allow. And so she wrote her letter to a veteran whose name was the only thing she knew.
"Maybe you are asking yourself right now why I wanted so badly to talk with you or wanted to know your name. I don't know, but I saw something in your eyes. I knew you were a special man, Sir. I thanked God that I met you if only for a moment. You are a hero!"
Of course, Harry Watts never saw it that way. He acknowledged that most Canadians soldiers he knew considered themselves invincible maybe, but never heroic. "You're 19," he told me last spring during the Liberation observances, "and there wasn't anything we couldn't do." But Watts would be the first to point out the cost of liberating the Netherlands was severe – more than 6,000 Canadians killed, wounded or taken prisoner.
"It must be very special for you and the other veterans to celebrate the freedom in Holland," Monica continued in her letter, hoping it would find her hero. "But it's also heartbreaking to pass by the graves of your comrades and the memories you have carried around as you walked there.
"I hope you get this letter and I hope you can write back. With best wishes and love," she concluded, "Monica Visser."
When her letter and the photograph, taken in Baarn last spring, finally made their way to Harry Watts, he said it took two days for him to put together a response, he was so overcome by it. But he did write to Monica, thanking her for her thoughts and gratitude to be living in a country freed largely by Canadians 70 years ago. Incidentally, Monica concluded her letter to an unknown veteran with a postscript I'm sure Harry Watts enjoyed.
"How is Canada, Sir?" she wrote. "It seems to be a very beautiful country. Sometimes I wish I was born there."