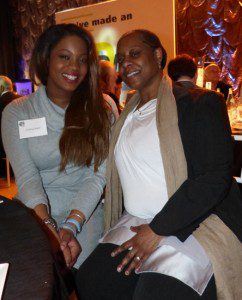 Her mother told me that she was shy. Kervinya Driscoll said that when her daughter Lovinya was young, she didn't like speaking in front of other people. She was quite content to stay at home because it was out of the limelight and safe from the rest of the world.
"As a child my daughter was painfully shy," Kervinya Driscoll told me the other night. "But then suddenly she came out of herself … and her world got very busy."
On Tuesday night this week, I presented an annual scholarship to Lovinya Reid for both her academic excellence as a student at Centennial College and her activity as a volunteer making a difference. The June Callwood Scholarship is the college's way of recognizing a student's initiative both in the classroom and in the community. (As full disclosure here, I'd point out that I am on the faculty of Centennial and while I sponsor the June Callwood Scholarship, I have no hand in choosing the student who wins it.)
The first time I met the recipient of the scholarship was at the awards dinner and presentation on Tuesday. In fact, I met both of them – the mother and the daughter. Clearly Kervinya adores and admires Lovinya; she couldn't take her eyes off her daughter all night long. And when I met her, Lovinya was hardly the wallflower her mother suggested she'd been as a child.
She was eager to meet other guests around the table. She was texting all evening long and when the background music at the awards dinner got louder, she smiled and moved in tempo with it. Quite the contrary to what her mother claimed was an introverted childhood, Lovinya Reid today is out there. She's in her second year of a four-year bachelor program in Public Relations Management at Centennial. And at age 19 she has a personality no one can resist.
"Where's home?" I asked.
"Orlando," Kervinya said, as if an admission. "We're American. … We moved to Canada because of 9/11. I wanted a safe place for my daughter."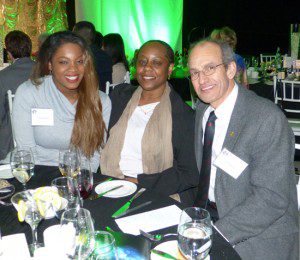 Lovinya, it turns out, is an only child, today living with her mom in Ajax, Ont. But that has done nothing but encourage her to look outward. Half way through her studies at Centennial and well on her way to a career in the adult world of fast-paced, high-stakes public relations, Lovinya has found causes that both challenge her skills and feed her appetite to do more. Once a week, despite her obligations at Centennial's downtown Story Arts Centre, she finds time to be with her grandmother, currently living with multiple sclerosis. And when her homework is done, Lovinya donates any spare time to the Youth Room at the Town of Ajax.
"I'm a dance teacher," she said, "building new friendships and confidence in their many abilities." She mentors other young people, kindling the talents of young dancers in a performance team, called "The Uprising," which gives some of her peers a chance to show their stuff once a week in the safety of a community centre while allowing them to "break out of their comfort zones, and build relationships with others. … I feel as if this group of students is my greatest contribution to my community. … (They're) a large group of future leaders."
As it turned out, the June Callwood Scholarship I handed to Lovinya Reid was one of 399 bursaries and scholarships bestowed Tuesday night, totalling $430,000 in awards to Centennial College students this year. President and CEO Ann Buller described the celebratory nature of the evening as "the power of strangers giving gifts to strangers" and having an impact on hundreds of students' lives. She described education as "a contact sport … forcing its participants to move, do, act, react and respond." And Lovinya Reid has done all that and more. I asked her about her immediate goals.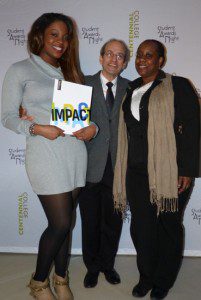 "I want to do my master's in public relationship management," she said, "But this scholarship motivates me to pursue my … career goals to start a non-profit organization with the objective of empowering youth by eliminating social, economic and political barriers."
She works with young people in Grades 6 to 8, helping to give them a safe environment on their way to junior and senior high school. Like her mother did for her, I guess Lovinya wants her dancers to feel protected and encouraged to express themselves without fear. Maybe she doesn't want her dance team to feel any of the shyness she did growing up in Orlando. And maybe the scholarship has nothing to do with that impulse. It could quite simply be that Lovinya is truly her mother's daughter, nurturing and inspiring others.
In a way, isn't that the message Canada should be giving all its citizens, whether they're refugees seeking a new safe home, or – during the anniversary of this week's International Women's Day – breaking through glass ceilings restricting far too many generations of Canadian women?