As I recall, it was a summer morning. It might have been around the July 1 anniversary. It didn't matter. That whole summer of 1967 had had a birthday feeling to it. In any case, I was just rising from a rare sleep-in. But even in my half-conscious state I remember hearing a sound in the distance. It was the diesel whistle of a locomotive approaching the level crossing in Pontypool, Ont., just south of where I was rising from bed.
"Daa. Daa. Da-da," the diesel horn announced.
"What the heck is that?" I called out to my folks. And just as quickly as I asked, I realized that it was the first four notes of "O Canada" coming from that train whistle. About 15 minutes later, when I'd arrived at the station, where coincidentally the train stopped for a visit, I discovered it was the Confederation Train.
I'd heard about this six-car train that had left Victoria, B.C., on Jan. 9, 1967, as Canada's Centennial Year began. Heading west-to-east that year, it made 80 stops to show off a short history of Canada from pre-history to Centennial. And that morning I became one of the millions of Canadians – in big towns and small – who climbed aboard to enjoy its magical mystery tour of Canada.
I was reminded of that extraordinarily patriotic moment, this week, when I read that the country's Heritage Department plans to spend $17.5 million on local projects, including $7.5 million for the Toronto Symphony Orchestra and the Polaris Music Prize people to create a national mosaic-like series of compositions to salute Canada in 2017. It's just the beginning. I've learned that next year, during the country's sesquicentennial, federal officials plan to encourage and fund all kinds of 150th anniversary themes, logos, anthems, festivals, exhibits and parties coast to coast to coast. They even plan to resurrect that 1967 Confederation Train, this time as "Sesqui," a travelling geodesic dome showcasing Canada's arts and culture in interactive displays.
It didn't take long for me to imagine my hometown, Uxbridge, joining the sesquicentennial party bigtime. I mean we've had a history train – the York Durham Heritage Railway – on the rails between here and Stouffville, since my dad and I helped inaugurate it (he at the southern terminus and I at the northern one) in the spring of 1996. We've had commemorative concerts in both the Uxbridge Music Hall and the Thomas Foster Memorial for years. And the Lucy Maud Montgomery Society has acknowledged authors, readers and the power of Maud's pen in Canada and abroad for decades.
But why couldn't we bring some of that infectious sesquicentennial celebratory atmosphere (not to mention its spin-off tourist revenue) to this part of the world? Why couldn't we come up with creative and economically sound concepts to pitch to Heritage Minister Mélanie Joly and her 2017 planners so that we can enhance our arts, cultural, youth-oriented and historical infrastructure and join the sesquicentennial party too?
In his book about Canada's Centennial year, Pierre Berton described 1967 as "a great turning point year for Canada. … It was the year of the hippies. It was the year of love-ins and sit-ins. It was the year of youth. And this whole change of attitude … changed the look of Canada."
In the 12 months of 1967, 49 years ago, Canadians marched, danced, canoed, skied, skated, sang, parade, created, constructed and celebrated in every corner of the land. Young people back in '67 (and I was one of them) hit the road, visited Expo'67 in Montreal, hiked (and hitchhiked) up and down the Rockies and dipped their backpacks in both the Atlantic and Pacific.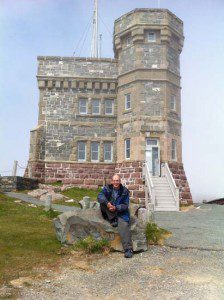 Why couldn't those same highways and railways ensure just as many youth did the same from Signal Hill to Esquimalt, or from Ungava to Uxbridge, Canada's Trail Capital? Why couldn't the TSO be invited to perform Canada's sesquicentennial tunes during Uxbridge's Art in the Park in August or Celebration of the Arts in September?
And sure we can build lots of things to pay tribute to Canada's 150th. But let's get creative. How about some sesquicentennial-sized artwork to offer another side to our commercial town entrance? How about a film centre – named after Oscar-winning filmmaker Christopher Chapman – where iconic Canadian documentary and feature films can be archived, preserved and researched by Canada's next generation of cinema and videographers? Or, how about an interactive sound/visual museum, cataloguing and making universally available the history and knowledge of post-traumatic stress, named in honour of recently remembered LCol Sam Sharpe?
The federal Canada 150 Fund, which was established back in April 2015, has apparently set aside $210 million for projects large and small. I'm sure this brilliantly creative community can come up with scores of credible, constructive and celebratory ways to spend the sesquicentennial committee's savings. Perhaps we can get things rolling by finding a way to have the York Durham Heritage Railway wake me up this summer with an "O Canada" whistle.