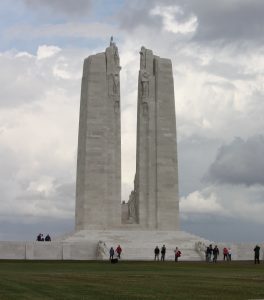 The Americans called them "an inspiration … for a generation." The British described what they did as "the greatest victory of the war." The French declared their achievement an "Easter gift."
What the world witnessed that Easter Monday morning – April 9, 1917 – was a near miracle of ingenuity, co-operation and courage among volunteers of the Canadian Corps. That day, 80,000 of them – fighting for the first time as a national army – swarmed up that strategic ridge in north-central France and in a matter of hours accomplished what no Allied army had, in nearly three years of blood-letting in Europe. They seized Vimy from an entrenched German army. Some say those young citizen soldiers also breathed life into a fledgling nation – Canada.
The year 2017 marks the 100th anniversary of the Battle of Vimy Ridge. So, for 10 days next year, travellers will return to the scene of those historic four days in 1917. Ted Barris, author of the bestselling book Victory at Vimy, will lead his fellow travellers to the centennial observance at the Vimy Memorial on April 9, 2017. But in addition, the tour will visit other important First World War sites, such as Beaumont Hamel and Thiepval, Ypres, Passchendaele and the Menin Gate. As well, in the latter half of the tour, Ted will lead his group to Second World War sites at Dieppe and the Normandy beaches to recognize the significance of the D-Day invasion and beyond.
For the full itinerary, accommodation, travel details and pricing, visit the Merit Travel website http://www.merittravel.com
Or call Georgia Kourakos, Senior Manager, Product Development & Groups, Merit Travel, 416-364-3775 x4259, or 1-866-341-1777.