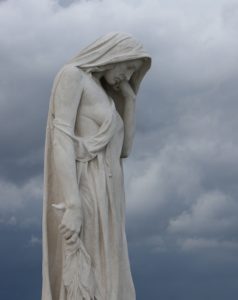 The man sat at the back of the audience area through most of my presentation. I spoke, as I usually do in those situations, walking among those in the audience, in this case 30 people seated at about eight tables. My topic was the Battle at Vimy Ridge coming up to the 100th anniversary next year. And I was speaking at a small Ontario fair last weekend. I could see the man was reacting to what I had to say. He frowned a lot and when I'd finished he put up his hand.
"Is it true that all the French-Canadian troops threw their rifles overboard on the way over to France?" he asked.
I paused a second, wondering where he was going with the question. I didn't want to think there was prejudice involved. "No. I don't think that's true, since one of the key regiments at Vimy was the Royal 22nd from Quebec."
"But didn't they refuse to fight because they said it was an English war?" he went on.
Again, I gave him the benefit of the doubt and tried to fend off what I was beginning to fear was some obvious anti-francophone sentiment. "If memory serves, the very first place to support Canada's involvement in the Great War was the City of Montreal."
I admit, a couple of recent events of similar nature crossed my mind as I responded to this man, who seemed more intent on venting than on listening. I got thinking about the actor in Edmonton video-recording a public service announcement this week. Jesse Lipscombe, whose heritage is African-Canadian, took some verbal, racist abuse from a man in a car on the street. Instead of trying to ignore the slurs, Lipscombe calmly faced the man and tried to confront him with conversation not with anger or talkback. Fortunately, Edmonton's mayor, Don Iveson, jumped to Lipscombe's defence and commented to the Canadian Press.
"(We) need to call out racism and bigotry towards anyone in our community," Iveson wrote on Facebook. And he added wherever such slurs are uttered – at the dinner table, fire pit, water cooler or locker room – that's where the change has to start. Iveson came up with the idea of making people who perpetuate racist comments feel publicly uncomfortable. He has called the response initiative "# (hashstag) makeitawkward."
I was reminded too about Toronto Star reporter Susan Delacourt's column almost two years ago criticizing the dysfunctional nature of discourse on Parliament Hill. It had little to do with philosophical differences on policy at the time, but more to do with sexism on the floor of the House of Commons. Delacourt cited an exchange in the House in which Toronto Centre MP Chrystia Freeland attempted to be heard over the din of the chamber.
"(I'm trying to use) my big girl voice," she said. The phrase originated when somebody on social media (Delacourt said it was another reporter) ridiculed her. But even Freeland's attempt to fight fire with fire didn't eliminate the hooting and hollering that prevented her from speaking.
"She was trying to be a good sport," Delacourt commented, and then added that being a "good sport" is Parliament Hill's way of saying, "Laugh it off and you'll be allowed to fit in." Otherwise, the good ol' boys misogynistic network remains in control up there. Why should it matter? In the Prime Minister's own words, "Because it's 2016!"
Back to my encounter with the man at the community fair: I though I had dissuaded him from making any more anti-French comments. Apparently not. After my talk was done and I'd sat down at a table to speak with other people at the event, he decided to make his point to a wider audience and broke in.
"Is it true that Pierre Trudeau rode a motorcycle around during the (Second World) War wearing a German helmet and flashing a swastika?" he said.
Well, I'd heard this one before. And again, I didn't want to make a scene, but I wanted him to know I didn't particularly like his persistent line of commentary. "I think it's one of those urban myths," I suggested. He didn't appear convinced. And for the record, when I got home I checked a book online entitled Young Trudeau: 1919-1944: Son of Quebec, Father of Canada. In it, co-authors Max Nemni and Monique Nemni completely debunk the myth. They point out it was Roger Rolland, one of Pierre Trudeau's acquaintances, who stated it was he, Rolland, who wore the German army helmet (from the pre-Nazi First World War) to surprise some friends with an "outlandish disguise … not to convey some political message."
I wish I had taken down the name of the man in my audience at the town fair, so that I could share what I'd found. But I don't imagine people with such ingrained racist sentiment are as interested in hearing the truth as I'm interested in trying to find it.