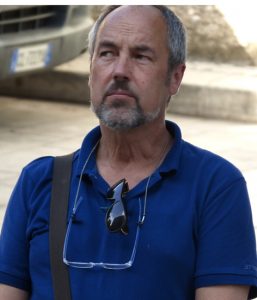 Like it did millions of other Europeans, the Second World War changed Rene Thied's life. Born in Hanover, Germany, following the war, Thied first learned about the Holocaust while he attended Ann Frank Schule, a grade school in Hanover. Even as a boy, Rene was appalled by what the Nazis did during the war.
"I couldn't live in a country that had done such a thing," he told me years later, "so, I decided to leave my home country."
Today, November 11, Canada's annual Remembrance Day, I will try to pay tribute to as many Allied servicewomen and men as I can. Over the years, I have had the good fortune to meet and interview perhaps 6,000 vets of the two World Wars, the Korean War, U.N. peacekeeping and Afghanistan. Many of them are top of mind today.
But so too did Rene Thied, born in Germany, educated in Holland and for a quarter century a naturalized citizen of Italy. As a result of our friendship – kindled over the years he and I led tours of Canadians to historic battlefields in Europe – he found himself serving hundreds of Canadians, including veterans on our tours. He did so eagerly, devotedly and with a little self-discovery thrown in.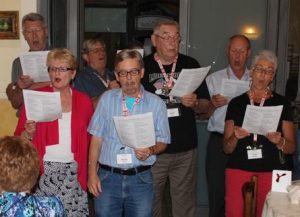 In 2008 and again in 2013, Rene Thied led our band of veterans, families and assorted other Canadian travellers from the south-eastern tip of Sicily to the Adriatic ports of Italy retracing the wartime route of the Canadian army that helped liberate the country from 1943 to 1945. Among our stops, Monte Cassino, where Canadians, Polish and British troops opened the road to Rome. I'll never forget a night our tour group finished dinner at the restaurant of one of Rene's friends in Monte Cassino. And into the wee hours, he and our merry band of travellers sang endless, boisterous choruses of the D-Day Dodgers song.
"Forgotten by the many; Remembered by the few," we sang. "We are the D-Day Dodgers; Out here in Italy."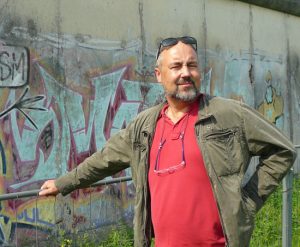 The year that Rene Thied and I led Canadian vets and their families to Eastern Europe proved among the toughest for all of us. In 2011, we visited Auschwitz concentration camp outside Krakow where over a million Jewish prisoners were killed, and later Theresienstadt camp in what was Czechoslovakia where 100,000 Jews died. But Rene and I also found the enamel factory, where Oskar Schindler's list of Jewish employees saved thousands. Knowing that the country of his birth was responsible for this crime and the Schindler miracle, our guide didn't say much, at first. But then, all at once, Rene Thied opened up to us.
"My father was brought up in a Nazi family," he told us one day. And he described the hardships that his family endured after the war in Communist East Germany, escaping eventually to Hanover in the West.
"I was 12 when I saw an article in the paper about concentration camps," Rene said. "At 16, I left Germany, not wishing to ever come back."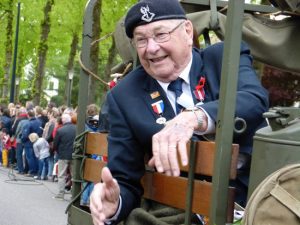 But he did, twice with us. In perhaps his proudest moment, Rene led us to the newly renovated Reichstag (German parliament) in Berlin in 2011. He recalled that his father had gone inside to see how Hitler had ruined the building during the war. "When I went inside and looked up to the ceiling of parliament," Rene's father told him, "there was nothing but sky. The roof was gone." But in 2011, the revitalized national parliament rooftop had been elegantly transformed to a giant glass dome, which Rene said, "allows today's German people to see a fully transparent parliament at work."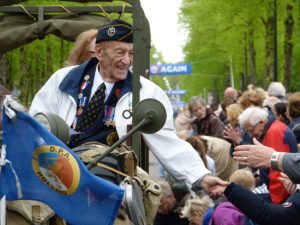 Rene led us to the most extraordinary liberation anniversary celebrations in Holland, in 2010, and again last year. On Dutch Liberation Day, May 5, 2015, he ensured that our two veterans – dispatch rider Harry Watts, and glider pilot Martin Maxwell – rode in the parade through the streets prominently. He found a Dutch army vet, who had camped out all night to earn the lead position in the parade with his jeep. Our man Thied made sure Watts and Maxwell got seats in that vanguard jeep.
"Years have taken away so many of the vets," Thied said last year. "But that just means more pent-up emotion from the Dutch for the few who are left."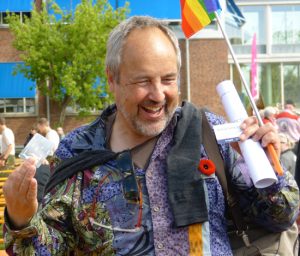 Rene Thied died last month of pancreatic cancer, at age 59. Five years ago, we celebrated his 54th birthday on the road in Prague. And we pressed him for his age.
"My father lived to the age of 56," he told our tour group then. "I have lived a wonderful 54 years and hope to outlive my father."
He did, by only three birthdays. This week, I wondered how many veterans – able to return to the Europe they liberated – will never know the unique gratitude from one of its modern citizens. Rene Thied will no longer be there to thank them with his infectious laugh, the twinkle of mischief in his eye, and his words of heart-felt homage.