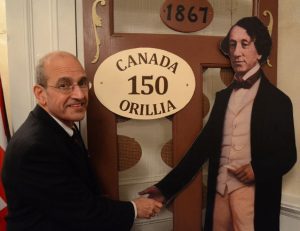 The Hermitage Ballroom at the Best Western Mariposa Inn was the room with the Sir John A view Saturday night.
The 19th annual Sir John A Macdonald Celebration was once again sold out, with approximately 200 people on hand to show their support for the Orillia Museum of Art and History while feting one of the Fathers of Confederation.
The celebration took on an added significance this year, as 2017 not only marks the 150th anniversaries of both Confederation and the incorporation of Orillia, but also the 100th anniversary of the Battle of Vimy Ridge, pointed to as pivotal moment in making Canada the nation it is today.
That made Ted Barris a fitting speaker for the evening. He has written extensively on the country around the time of Confederation, as well as specifically on Vimy, in 2007's Victory at Vimy.
Read the full story: http://www.orilliapacket.com/2017/01/15/celebrating-sir-john-in-orillia