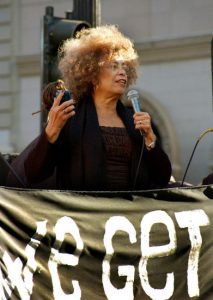 She and her friend walked among the multitudes, it seemed for hours. Some in the march were chanting, but she said it wasn't particularly tense. Besides the obvious aspects of it being demonstration, she said she didn't sense the men and women around her were targeting their frustration at anybody. And then the group came upon a stage, where Angela Davis, the American University law professor, was speaking.
"This is ground zero in the struggle for social justice," Davis told thousands during her speech to the Washington Women's March last Saturday. "Women's rights are human rights all over the planet, (and) this is just the beginning."
It was then and there that the woman and her friend – Sadiah Rahman and Kaitlyn Smith – two former students of mine at Centennial College – recognized something extraordinary in that moment. It wasn't just an inspiring speech. It wasn't just a march. For them, the whole experience of attending the Washington Women's March was something they sensed they had to join, hear and see, and feel first-hand as participants.
They felt they were witnessing a moment in history. We should all be so fortunate to have that experience, because all too often we say to ourselves, we "would've, could've, should've" gone. But we didn't.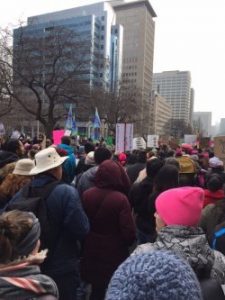 Last Saturday, despite the "alternate facts" presented by members of the new White House communications team, women from all over North America attended a demonstration – about half a million participants strong – that proved larger than the audience attracted to the inauguration of incoming President Donald J. Trump. I wasn't there, but as I say two of my students were, and for them the experience is one they'll never forget.
"I couldn't believe how welcoming the women in D.C. were," Sadiah Rahman told me. "They put us up, fed us. … They were so appreciative we had come all the way from Canada to support us."
Of course, there is no way anyone can anticipate these things. I remember in August 1969 a bunch of my university chums telling us about an outdoor concert they'd heard about. They said people were converging just across the border in Woodstock, New York. They said a lot of big-name rock acts – Santana, Joan Baez, Canned Heat, Sly and the Family Stone, Janis Joplin, Sha Na Na, Country Joe and the Fish, and the Band – would be there.
They said Jimmy Hendrix had promised to do his show-stopping rendition of "The Star Spangled Banner." But we were too busy. Too busy, and we missed what Rolling Stone magazine called a moment "that changed the history of Rock and Roll." It was a historic opportunity missed.
One historic opportunity I did not miss was the pro-Canada rally in Montreal four days before the Quebec referendum in the fall of 1995. As I recall, it was coming down to the wire. "Oui" supporters campaigned for the latest version of Quebec separation, called "sovereignty association." Meanwhile, "Non" supporters seemed equally strong, preferring to keep Quebec within Confederation.
Suddenly that autumn, however, it seemed the "Oui" forces had pulled into the lead. A pro-Canada rally invited citizens from across the country to come to Montreal's Place du Canada to show their support. Our younger daughter asked if we would drive her to Montreal to be part of the rally.
"I want to be part of history," Whitney told us.
We went. We rallied. We cheered for unity. Fortunately for Canada, the "Non" side won in a squeaker with just 50.6 per cent of the Quebec vote. We had recognized the historic nature of the moment and seized it.
One of my favourites is the story of radio reporter Herb Morrison. In the first week of May 1937, his assignment editor at WLS Radio in Chicago dispatched him to cover a non-descript story – the latest arrival of a German dirigible at a docking tower in Lakehurst, New Jersey. At the airfield Morrison set up his audio recording device and began recording.
"The ship is gliding majestically toward us, like some great feather. … It's practically standing still now," Morrison described rather calmly. Then, to fill a moment or two of dead air in the broadcast until something of note happened during the mooring of the dirigible, Morrison offered details of the airship's captain… Then history intervened.
"It's bursting into flames! Get out of the way," Morrison shouted into his live microphone. "This is terrible! One of the worst catastrophes!" And by now he's weeping as he moans, "It's a horrific crash, Ladies and Gentlemen. Oh, the humanity." He'd just described the Hindenburg disaster, the crashing and burning of a zeppelin that killed 36 people, but Morrison's commentary became one of the most quoted broadcasts of all time. It was an accidental, but unique witnessing of history.
My two students continue to offer verbal snapshots of Saturday's Washington Women's March. It shaped their sense of women's rights. It generated mind's-eye images of hope, commitment and solidarity. But its deepest impressions they may not recognize for years – the history they witnessed first-hand.