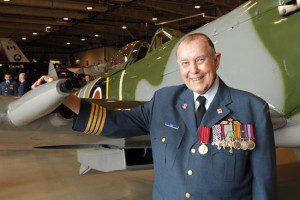 A student pilot nearly killed him in a training accident in November 1942. While still an instructor in the British Commonwealth Air Training Plan, during the Second World War here in Canada, he'd survived a head-on collision with another aircraft near Bagotville, Quebec. And overseas during combat operations flying Spitfires, RCAF airman Charley Fox also survived 234 combat sorties as a fighter pilot. And yet, it was a June evening in 2006, that Charley told me just about topped them all.
"Meeting Dame Vera Lynn," Fox said, "was a highlight in my life."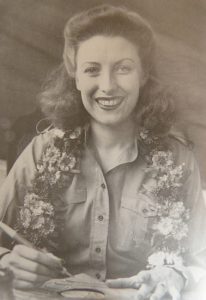 It was a meeting I'd concocted. As my wife and I have done for many years now, in 2006 we organized a springtime tour that explored sites in and around London, England, that had housed secretive operations during WWII. Places such as: the underground Cabinet War Rooms, where Winston Churchill had gathered his elected brain trust to orchestrate the defence of Britain; Southwick House, where Dwight Eisenhower awaited word on the fate of his D-Day gamble; and Bletchley Park where thousands of encryption experts decoded Enigma.
With a substantial number of veterans, their families and others travellers old enough to recall the war first-hand with us on the tour, I managed to reach the daughter of Dame Vera Lynn and convinced the two women to attend a cocktail party at our hotel, designed to surprise our Canadian travellers.
"We have a special guest joining us," I told our group on June 12, 2006, "somebody you'll know as 'the Forces Sweetheart.'"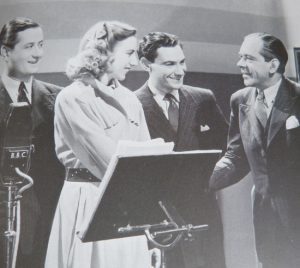 Then 88, Dame Vera seemed as charming and engaging as during the heyday of her singing career, in the 1930s when she performed with Bert Ambrose, one of the most popular band leaders in Britain. In 1939, as the war began, she recorded the song forever associated with the war effort, We'll Meet Again, and later her other wartime hit The White Cliffs of Dover, performed regularly on her own BBC radio program Sincerely Yours.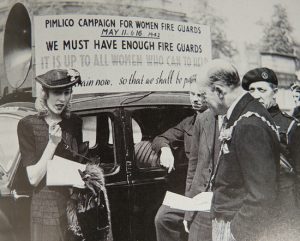 Dame Vera visited hospitals during the London Blitz, performed outdoor concerts for British troops in Egypt, India, Burma and across the British Isles for members of the Home Guard. And what should be mentioned, is that she was not only loved by the men in the forces, but by their sweethearts, too.
"If (Nazi Germany minister of propaganda Joseph) Goebbels wants to see the effects of German raids on British morale," the Manchester Sunday Chronicle wrote in September 1940, "he ought to be in a theatre while an air-raid alarm is on. A big audience simply revelled in a concert … by Max Miller, Doris Hare, Tommy Trinder and Vera Lynn, the other night. And they chipped in 15 Pounds for a Spitfire."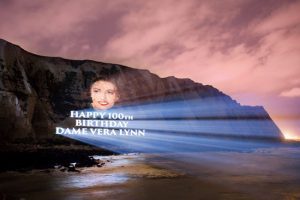 Britons still adore their wartime songstress, so much so, that last Monday, on her 100th birthday, an image of Dame Vera's face was projected on her beloved cliffs of Dover. The honour of appearing much akin to the presidential faces on Mount Rushmore, also coincided with the release of her latest album, Vera Lynn 100, a recording featuring new, orchestra-backed recordings of her beloved music.
"I am truly thrilled by this wonderful gesture," she told Metro Entertainment in the U.K.
But I have another Vera Lynn encounter to share. It happened in 1995. My wife and I were enjoying an anniversary present from my parents – a week's travel in the U.K. On our second day holidaying in London, we noticed that Dame Vera was about to announce a fundraising and awareness-raising campaign to assist veterans in need. It was to take place in the historic Cabinet War Rooms I mentioned earlier.
Armed with a copy of a book that my father and I had recently co-authored, Days of Victory, I asked some of the people attending Vera Lynn, if I could meet the lady and give her a signed copy of our book about the final days of the war. Dame Vera's handlers agreed and suddenly there I was in front of lights, microphones and news cameras presenting "the Forces Sweetheart" with Dad's and my co-authored book.
"To Dame Vera Lynn, who made the lights go on again all over the world," I inscribed on our title page, and handed the book to her.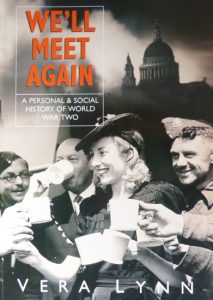 Whereupon she snapped her fingers; and immediately, one of her attendants, brought out a copy of her latest book, We'll Meet Again, and she signed it: "To Alex and Ted. Yours, Vera Lynn."
Then she added for emphasis (and with the news cameras still rolling) a hug and kiss. Just like all those veterans with us during Dame Vera Lynn's surprise visit back in 2006, I thought, "I'm never going to wash my cheek again!"
Charley Fox was right. In spite of all my planned and accidental encounters with celebrity, and even though I'd met hundreds of singers and songwriters before, I was smitten. She was Dame Vera Lynn! And just as Charley said, "It was a highlight in my life!"