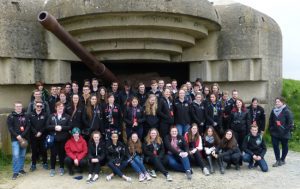 They all looked sharp in their specially tailored commemorative jackets. They responded to the atmosphere of being away from home on a field trip with not unexpected exuberance; they looked pretty pumped. But when several of them spoke publicly the other night in Ypres, Belgium, I could tell these teenagers had changed even in the few days we've been away.
One of them, Sam Futhy, a Grade 10 student from Uxbridge Secondary School, noted a visit to one of the Great War cemeteries.
"When I saw the number of grave stones," he said. "I don't know. It just hit me."
It was Day Four of the Vimy 100th commemoration trip I've been hosting since last Thursday, when 55 adult travellers and about the same number of students from Uxbridge Secondary School, began our pilgrimage (in two buses) to battlefields of the First and Second World Wars. For the adult group, mostly retired Canadians, this tour, as one of them put it, "is a chance to say thank you to veterans for the good life I've enjoyed."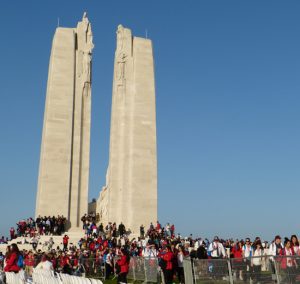 For the students, however, it may be the most influential 10 days of experiential learning they've ever known. After studying wartime battles Canadians endured in north-western Europe, it was time to view them, walk them, experience them where they actually happened, not in a classroom or on the internet.
One of the highlights occurred Sunday, when about 25,000 Canadians young and old descended on perhaps our most famous Great War monument – the Vimy Memorial. Here on the military position known as Hill 145, between April 9 and 12, 1917, Canadians for the first time serving as an independent corps liberated Vimy Ridge from the Germans.
It was the first significant Allied victory of WWI and some say a turning point in Canada's coming of age as a nation. But on Sunday, exactly 100 years after the battle, U.S.S. students witnessed a dazzling ceremony attended by such dignitaries as Princes Charles, William and Harry, French President Gérard Hollande and Prime Minister Justin Trudeau.
"As I see the faces gathered here — veterans, soldiers, caregivers, so many young people — I can't help but feel a torch is being passed," Trudeau said in his speech. "One hundred years later, we must say this, together. And we must believe it: 'Never again.'"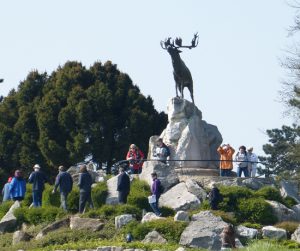 I couldn't help thinking that the prime minister's call to action fell on attentive ears. I learned that Uxbridge students not only look the part – with their Vimy commemorative jackets and somber demeanor in Commonwealth cemeteries, but they're also intellectually prepared.
Sam Futhy had visited a Royal Newfoundland Regiment cemetery to honour a family relative, Ambrose Stride; Grade 11 student Scarlet Minshul paid tribute to Uxbridge local Walter Gould, who served at Vimy; and Grade 11 student Emma Runnalls brought her knowledge of Uxbridge native Sam Sharpe, who saw his Ontario County battalion first blooded at Vimy – when 10 troops were killed and 30 wounded simply repairing communication wire on the first night of the battle.
"I'm thankful to have had the chance to come here and do this," Emma told last night's dinner group.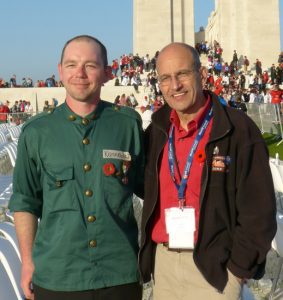 One might sit at home in Canada and criticize these pilgrimages as just another field trip where young people of some means get a chance to zip off to exotic places, blow off some steam, and give the impression that they care.
Well, I found evidence to the contrary. And I found it right in front of me. Following the Vimy 100th observance on Sunday, and as the crush of 25,000 spectators made its way to shuttle buses under the watchful eyes of Gendarmerie security forces, a young man approached me.
"Are you Ted Barris?" he asked. "You probably don't remember me, but we met here on the Vimy grounds 10 years ago."
Robb Phillips, now a 20-something adult, reminded me of our first encounter at Vimy in 2007. Like the current group of U.S.S. pilgrims, Phillips, a decade earlier a high school student from Pickering, Ont., had saved and studied to get to Vimy to commemorate one Cpl. Joseph Kennedy of the 161st Huron Battalion. He still felt an attachment to Kennedy, wounded by shrapnel and gas but still active during the Canadians' last 100 days of the Great War. He admitted the whole experience had changed him.
"I'm here out of respect and love of history," he said. And on Sunday, for the 100th, Phillips wore the same green khaki army shirt he had worn in 2007, with the name "Joseph Kennedy" inscribed on a white patch sewn above his breast pocket. "I just had to come back!"
There's no guarantee that any of the Uxbridge high school teenagers, nor even history-smitten Vimy returnee Robb Phillips will ever live up to Trudeau's plea of "Never again!"
But walking here among these battlefields and war memorials, they'll have a greater chance of success than those who dare to ignore war history all together.