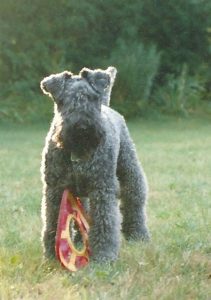 Sometimes it's as subtle as the songbirds in the backyard going silent. Other times in the house, the cats curl up together in a corner. In a more obvious example, my pet Kerry blue terrier pants as if he's just completed a marathon run cross-country, and I know there's a thunderstorm in the area.
I remember the story, a few years ago, about an earth tremor in the state of Maryland. And Mike Blanpied, a U.S. Geology Service expert, reported that just before the quake, animals responded because they were more sensitive to the slightest shaking.
"Animal earthquake prediction," he called it.
In a more critical example, back in 1975, a National Geographic story reported that officials in Haicheng, a Chinese city with a population of one million, noted the erratic behaviour of among local livestock and pets. As a precaution, they ordered the evacuation of vulnerable parts of the city just before a 7.3 magnitude quake struck the region. National Geographic went on to suggest the pre-emptive action likely spared tens of thousands of deaths or critical injuries. And at least one scientist reviewing the data claimed animals were indeed responsible for "the solid prediction."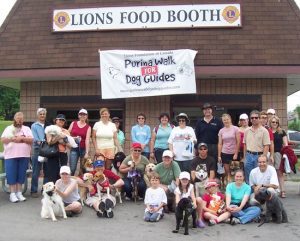 I've been mindful of these remarkable and sometimes inexplicable capabilities of animals, as we approach this Sunday's annual fundraiser for Dog Guides, sponsored by the Lions Foundation of Canada. Each spring since 2001 (and nationally since 1983), those of us who enjoy a pleasant stroll with our dogs around town have gathered at Elgin Park – with our pledge cards full of donations – for a money-raising walk-a-thon around Uxbridge. Thanks to the executive director of Dog Guides Canada, Sandy Turney, who joins us annually in Uxbridge, we've come to realize just how expensive and essential training a service dog has become.
"The cost of breeding, training and matching a Dog Guide is $25,000," she's told us, "but none of that cost is passed on to the recipient."
In other words, those Canadians who enjoy a higher quality of life and independence thanks to the highly trained Dog Guide service dogs, bear none of the expense for the canine assistance. They merely benefit from the dogs' innate and ability-focused senses.
What began as a canine service to assist those with visual impairment and blindness 30 years ago, has expanded exponentially. Today Dog Guide canines help those with hearing impairment and those with a variety of physical disabilities. But here's something I didn't know until last year.
Dog Guides of Canada now trains its service canines to assist those people with type one diabetes when it comes to their hypoglycemic unawareness; the dogs learn to signal their handler when medication might be required. And another of the canine services assists children, aged three to 12, who are on the autism spectrum. Indeed, Jonathan Wilson, a young man in Uxbridge, Ont., was recently matched with Cagney, an autism assistance dog guide. Jonathan explained the dog's exceptional value to him.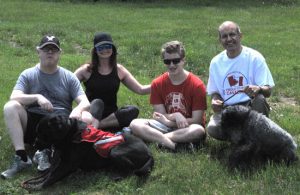 "He makes me feel happy when I'm down," he told us last year. "He makes me feel more comfortable when I'm in situations that are uncomfortable for me."
But having an autism assistance Dog Guide means much more. Having Cagney offer that kind of assistance also gives Jonathan's family members peace of mind, that they can leave Jonathan alone at home in the knowledge that he is safe and continuously attended to. The dog helps improve Jonathan's socialization skills.
And, as most of us who've had dogs as pets can attest, having a canine in the house often generates a calming effect; for children dealing with autism that influence can reduce the severity of any acute behaviour. Cagney can also lie close to his master during sleep. And anytime the dog walks with Jonathan in public, the visibly strong relationship is a constant reminder of the bonds that exist naturally between a dog and a child.
"Cagney has been a really good addition to my life," Jonathan said.
Who knew? And who realized the extent of these life-changing programs? Sandy Turney pointed out, with the help of its sponsors – the Lions Club in Uxbridge and Jim Carlin, the local Pet Valu store operator – that more than 2,600 Dog Guide canines have been placed with individuals across the country. This Sunday we shall stage our 16th Dog Guide walk-a-thon, Sandy reminded me.
"We are often small in number," she added, "but (Uxbridge walkers) generally raise thousands of dollars."
In total, the walks have raised more than $1.3 million across Canada. But again, when a service dog costs $25,000 to train, every foot step and paw step makes a difference. If you want to join me and my Kerry blue and the others supporting Dog Guides of Canada, gather some pledges and arrive at noon this Sunday in Elgin Park to register.
Connecting service dogs to our community isn't as grand as predicting earthquakes perhaps, but it is delivering extraordinary relief of another kind to friends and neighbours in need.