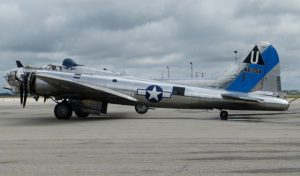 I was battling rush-hour traffic. Ironically, I was listening to a Toronto radio station's traffic reporter tell me I was in gridlock. Then, my cell phone rang. I read the call identification. It was one of my teaching colleagues at Centennial College. And he was excited.
"She's here!" he said, with more energy in his voice than usual.
"Who's here?" I asked.
"Sentimental Journey. She's going to be in Hamilton all this week," he continued.
It was Malcolm Kelly on the phone. He's the co-ordinator of Centennial's sports journalism program. And second only to his love of sports is Malcolm's love of airplanes.
But not just any airplanes. Warbirds. Bombers, fighters, transports, flying boats … anything that flew in combat during the Second World War. Which means Lancaster bombers, Halifaxes, Spitfire fighters, Hurricanes, Cansos, etc. But probably his all-time favourite warbird is the B-17. And one of the very few still flying, 70 years after the last bomb was dropped by the U.S. Army Air Force, named "Sentimental Journey," was paying a visit to the Canadian Warplane Heritage Museum (CWHM) in Hamilton. And, well, we just had to go.
"Friday morning at 8:30," I agreed.
And I knew I had to be punctual because my friend wanted to get to the museum as it opened and be among the first to visit this historic warbird, during the few days it sat on display at Hamilton International Airport. Have you ever watched grown men gather around vintage airplanes? Or cars? Or boats?
There's this magnetism that leaves them – no matter how normal and otherwise under control they might be – weak, almost in a trance, even catatonic. I haven't watched others of my gender much around cars and boats, but planes – a lot. I've watched them at CWHM, at the Bomber Command Museum of Canada (BCMC), in Nanton, Alta, the Aviation and Space Museum in Ottawa, or Vintage Wings at nearby Gatineau, Que. It's like watching a kid discover his favourite candy, or her most desired doll. Warbird nuts turn into blubber.
A few weeks ago, I travelled to the BCMC in Nanton, south of Calgary. I spent several days in the facility's archives, digging through aviators' files, sifting through photo portraits, and conducting a few interviews locally. I took a break from the research and wandered out into the main BCMC hangar where their fully functional (though not airworthy) Lancaster was parked. Two guys, clad in motorcycle leathers and bandanas – they had cycled all the way from somewhere in Texas – stood beneath the massive wings of the bomber. Their eyes didn't blink. Their jaws were agape. They stood like statues, taking in the Lanc.
"Impressive?" I said quietly, not to disturb them.
"Awesome," one said with a southern drawl, "Just awesome."
"You know this bomber commemorates a Victoria Cross winner," I continued. "Ian Bazalgette from Calgary." And I briefly recounted how after nearly two full tours – about 60 combat missions – pilot Bazalgette's Lancaster had been damaged during a raid against Nazi V-1 rocket sites. Hit by flak, with two wounded aircrew on board, Bazalgette fought to keep the burning Lanc airborne long enough to allow four other crewmen to bail out to safety, while he attempted to crash-land. The bomber exploded on the ground, killing Bazalgette and his two injured crew. For his bravery and loyalty to his crew, he was awarded the V.C.
The two guys from Texas just kept staring at the Lanc and repeated their reaction: "Awesome."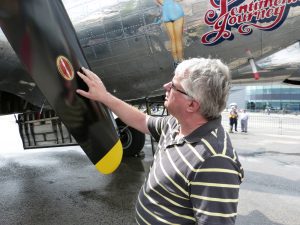 Last week, when my friend Malcolm and I got out onto the CWHM tarmac, B-17 Sentimental Journey sat there, almost waiting for him; he stopped and put his hand over his heart. He'd arrived. Then, with permission from the B-17 crew, Malcolm moved slowly around the legendary Flying Fortress, letting his hands gently run across its fuselage, the underside of its wings and along the machine's glistening propellers.
"Can we go inside?" Malcolm asked one of the crew.
"Yup," he said. "Five bucks each."
I jumped in and gave the man $10 so we both could climb aboard. I went up into the cockpit to meet the pilot and interviewed him on my camera, while Malcolm explored his way through the bomb bays and into the middle of the bomber where two machine guns sat mounted with bullet belts hanging down. I wondered about the men whose hands had fired those guns. Malcolm just wanted to get his hands on one.
"I can't stop thinking of William Wyler," I said out loud. Malcolm ignored me. "You know, the Hollywood director who shot a documentary on one of these things in 1944."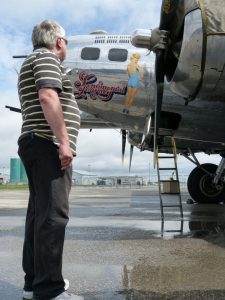 "The Memphis Belle…" Malcolm reminded me. But Malcolm had other priorities. He wanted to get down to the rear of the bomber, to the tail-gunner's position. And again he ran his hands over the exterior of the plane and the plastic bubble over the tail turret.
"True love," I said in jest.
But Malcolm looked back at me. He was dead serious. He loved just being near this machine.