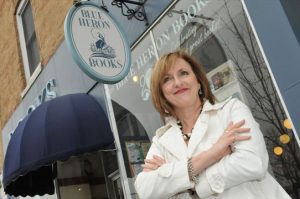 Some of the last few nights, when I took the dog for a walk, I noticed that I had to wear a sweater. On other walks up our street, it became pretty obvious that the trees were starting to turn. Then, a couple of weeks ago, Shelley Macbeth's email arrived.
"Just confirming that you're all ready for Books and Authors," she wrote.
That's when I realized the season had changed. If it's time for Blue Heron Books' Books and Authors night, it's truly the beginning of fall. For those of you who have lived here and have followed Uxbridge's incredibly lively arts scene over the past 30 years or so, it's no surprise.
But for others who might be newcomers to town, or who, with the emptying of your nests, have found yourselves with a bit more discretionary time and the chance to attend some of our annual Celebration of the Arts, it's time. It's autumn.
Full disclosure here. For most of the 30 years that the Celebration has included an evening of readings, conversations and the chance to meet a who's who of Canadian writing, I've had the honour of being Books and Authors night MC. And over the course of those annual nights at the Music Hall, Uxbridge booklovers have had close encounters of the literary kind with such writer luminaries as Timothy Findlay, Barbara Gowdy, Bonnie Burnard, Katherine Govier, Robin Maharaj, Richard Wright, Lori Lansens, Wayne Johnston, Nino Ricci, Linwood Barclay, Anthony De Sa, Miriam Toews and André Alexis, to name a few.
For me it all began when Barb Pratt, who'd opened her Blue Heron Bookshop on Church Street, approached me in the store one day. "Would you consider interviewing authors in front of an audience?" Barb asked.
Ever since, for me, the third Thursday in September has meant the start of fall. This time of year – with book-buying picking up from now until Christmas – is generally considered financially make-or-break for publishers and booksellers. That's why the outdoor Word on the Street festival, the Governor General literary awards and the Giller book prize all happen in the fall. And they're all wonderful, and vitally necessary, acknowledgments of Canadian writing and reading.
But as that hurricane of book activity swirls around us over the next few months, it amazes me that a succession of Blue Heron Book proprietors – Barb Pratt, Marilyn Maher and Shelley Macbeth – every year have provided an eye of calm in that storm of hype. They've managed to bring giants of Canadian literature to a low-key, one-night, sit-down interview, after which writer and reader munch on treats, share comfortable conversation, and, of course, exchange inscribed books. Most of those literary stars leave our little Books and Authors night overwhelmed.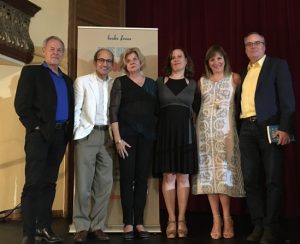 "Go figure, Uxbridge" most say. "All this and book sales too?"
Again, I don't normally promote in this column, but you might want to drop by the Music Hall tonight because I'll be interviewing journalist and Giller-winning novelist Linden MacIntyre, internationally acclaimed writer Alison Pick, Governor General award-winner Linda Spalding, and two-time Leacock Humour medal winner Terry Fallis. I've just finished reading the latest works of each of these talented folks and will I hope ask some of the questions you'd like answered.
MacIntyre, who left the CBC as co-host of the fifth estate in 2014, has just published a book, The Only Café, that probes more deeply into the fanaticism that exists in the Middle East than any of his contemporaries. His coverage of the aftermath of the Sabra and Shatila refugee camp massacre in Lebanon made him shudder. "If anybody wanted to take my fiction seriously," he told CBC Radio, "at the core of it the one consistent theme is the migration of violence through time and space."
Alison Pick whose work is new to me, in her latest, Strangers with the Same Dream, creates Jewish characters from between the world wars searching for a home in Palestine, where, she writes, "theirs would be the first generation in 2,000 years to raise children in the language pulled from the ashes of history."
Equally timely, because Canadians are debating whether writers can or should explore cultures that are not their own, Linda Spalding has written A Reckoning, about slavery and freedom in the U.S. in the 19th century. Says Spalding, "Our stories are meant to be told and retold, and with every retelling, the storyteller adds something of his or her self."
The man who almost single-handedly pushed his humour fiction to the attention of the nation, Terry Fallis, has tickled Canadians' funny bone with books about national politics and the meaning of names, but this time, in One Brother Shy, he laughs at his own experience. "Having been an identical twin for my entire life," Fallis wrote, "this novel was inevitable."
Last week, I stepped onto my front walk and a gust of wind blew leaves down in front of me. They rattled on the pavement like the tapping of keys on my laptop. I knew I had to write up my questions and intros right away. Thursday, Sept. 21, 2017, is Books and Authors night, and the beginning of fall.