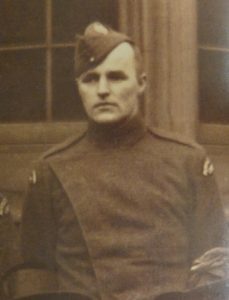 First, they told me to stand still. For an hour. Then, a man I didn't know except through my father ran a tape measure across my shoulders, down the length of my arms, around my waist and chest. A little later, when he needed a measurement down there, he ran the tape measure from my ankle up into my crotch. I kept on smiling even though, at about age 10, I had never done this sort of thing before. The man with the tape measure finally smiled and gave me a pat on the back.
"Ted, you're going to love this," he said, "your first ever tailor-made suit."
The man with the tape measure was Dave Caplan. Short and stout, and always smiling – no, always laughing – Caplan wore many hats. He wrote stories about jazz. He promoted jazz at clubs in Toronto, such as the Town Tavern, the Colonial, and George's Spaghetti House. But mostly he made suits. And because Dave and my dad, Alex, both loved and reported on jazz, I guess it seemed logical that Caplan would make my first tailor-made suit.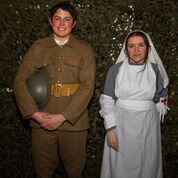 Not so long ago, however, I learned that suit-making traditions in these parts go back much further in time than Caplan's 1950s tailoring business. In 2016, the students of Uxbridge Secondary School, and their teacher Tish MacDonald, began preparing for a tour of battlefields where Canadians had fought in the Great War. They staged a tribute to Sam Sharpe, the Uxbridge lawyer and MP responsible for recruiting and underwriting the 116th Ontario County Battalion for service in the Great War.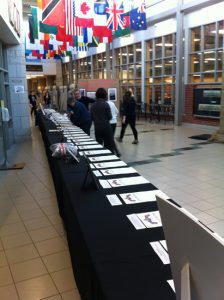 The students literally transformed USS foyers, library and cafeteria into a First World War museum. And among the artefacts, photos, replica trenches and costuming, those who attended that night saw a service jacket of member of the Royal Flying Corps (air force) c. 1917. Terry Beauchamp, brother of local resident Julie Slater, was so enthused by the dedication of USS students to explore their history, he loaned the historic RFC tunic for display at the school.
"It's the genuine article," Beauchamp told me. "It was tailored by my grandfather and worn by actual aircraftman James Armishaw."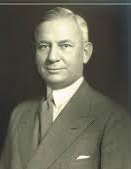 And Terry knew what he was talking about. His grandfather, Walter,  and his partner, Alf How, opened a tailor shop, Beauchamp & How, along Tailors' Row on King Street West in October, 1908. Their line of clothing bucked the Victorian trends of the era; instead, they called themselves "Tailors to Young Men," which offered more progressive Edwardian styles. A Beauchamp & How customer, for example, could purchase a business suit or overcoat for $24.
"We don't economize in the tailoring," said an ad in 1909, "for our cutter is one of the highest-salaried men in Toronto; and our workmanship is of the kind known as 'superior.'"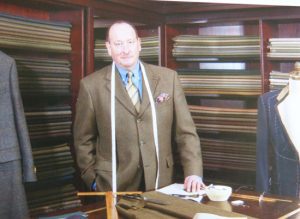 It's not very often one finds such colour in the story of a tailoring enterprise, but this fall Terry Beauchamp and journalist Pedro Mendes have co-authored and published Walter Beauchamp: A Tailored History of Toronto. This is no aggregate of fashion superficiality.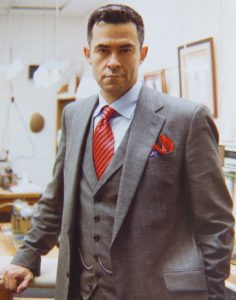 It's the story of a family enterprise, true, but it's also a people history that stitches delightful anecdotes of tailoring and life reflected in the clothing that Beauchamp & How produced for their clientele over the past century. Or, as Gordon Lightfoot suggested in the book's foreword: "It rolls out the fabric of our shared history and tells the story of Toronto, and of Canada."
One might wonder how history and suit wear can come together in a book. Well, in addition to outfitting regiments for war, Beauchamp & How managed to win the contracts to tailor the uniforms of Toronto railway workers and firefighters; the tailoring provided appropriate uniforms and kept an enterprise alive in the Depression. There's also the tale of the TTC bribery scandal of the 1930s.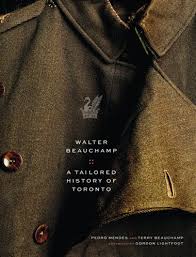 And there was the remarkable discovery during one provincial election, that both leaders were consulting Beauchamp & How for the winning look. And, yes, Terry tells a serendipitous story of the day he met Gordon Lightfoot and was presented with a remarkable challenge.
"I'm going on another tour," Lightfoot told him, "and I need some things altered."
Over the next few weeks, I'll be interviewing Terry Beauchamp in public about this story, including 5:30 p.m., Monday, Oct. 16, at Blue Heron Studio.
I wish I still had even a piece of that first suit Dave Caplan measured, cut, and had stitched together for me in the 1950s. I only found out in later years that both my father's and mother's families, going back to the 1920s and '30s, had also done stitching for clothiers, not as shop owners, but as seamsters and seamstresses for the New York fur business. But as I looked closely at the stitching on the suits depicted and regaled about in Terry Beauchamp's book, I recognized, here was a profession that gave so much, but was recognized so little. As the ad line said:
"… of the kind known as 'superior.'"