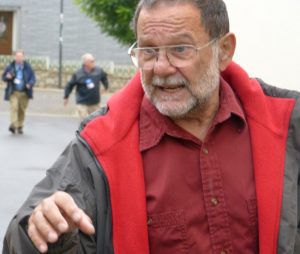 We walked in single-file behind our guide. The street in Nennig, Germany, opened into a market square as the young man leading our tour painted a wartime picture of this town 72 years ago. He pointed to the homes tucked neatly around the intersection. Then, he said because of the battle being waged between German and U.S. forces here during the Second World War, that civilians had been evacuated.
"Well, that's not entirely true," a quiet voice said behind me. I turned and a man I didn't know, but who was travelling on the same tour, added, "Some of the civilians refused to leave."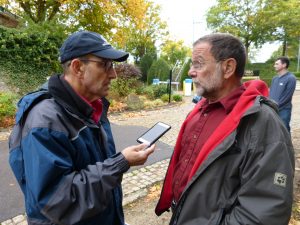 I introduced myself to Al Theobald, from San Diego, California. And as we fell a bit behind the rest of the walking tour to chat, he told me that he was born in this part of Germany, right after the war. His mother, Maria Fox, was indeed evacuated on Christmas Day, 1944, but remarkably, when she returned to the family farmhouse after their town, Borg, was liberated, they found the home intact, but full of medical supplies…
"Medical supplies?" I interrupted.
"Yes," he continued, "with bandages, medicines, utensils. Our home was used by the Americans as a first-aid station."
I couldn't get the words out fast enough, "And where is this place, Borg?"
"About a mile from Campholz Woods."
As I mentioned in my column last week, Campholz Woods, Germany, was one of the battlefields of the Battle of the Bulge, a horrific engagement in which upwards of 85,000 U.S. soldiers were killed, captured or wounded. And in the woods to which Al Theobald had pointed, my father (a medic in the 319th Medical Battalion of the 94th Infantry Division) had personally retrieved four men in his platoon from a booby-trapped, land-mined field in February, 1945.
The action earned him a U.S. meritorious citation, the Bronze Star. My trip to Germany, this week, has included my first ever visit to this spot. But until this week, I'd never seen or touched any physical evidence of my father's actions there. I read my fellow traveller the citation that the U.S. Army had composed about my father's "total disregard for his personal safety."
"I had goose bumps," Theobald reacted.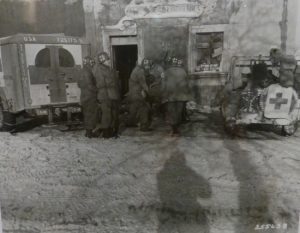 A few hours later, Maria Fox's son and I – my heart in my throat – walked through the bunkers, trenches, fox holes and dense woods of Campholz. In some ways, Theobald told me, things there seemed just the same as in those final months of the war. The woods were just as choked as 72 years ago, the land just as pastoral.
But when my father's medical battalion had rushed wounded to and fro here, it was the coldest winter of the war, and a foot of snow covered farmland sown with landmines, anti-tank ditches and dragon's teeth (rows of concrete obstructions). Eventually, Theobald took me to his mother's home in Borg, the former first-aid station, to which my dad's medic teams had rushed wounded in mid-February of 1945.
"Now it's my turn for goose bumps," I said and asked myself, "How did my father manage to save lives, stay sane and eventually make it home?"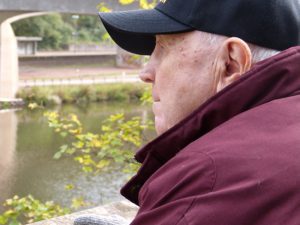 Just two days later, one of the veterans in our group illustrated to me how other medical corpsmen were not so fortunate. Our tour had arrived at the spot where, 72 years before, Jerry Fatora, an 18-year-old staff sergeant from Cincinnati, Ohio, and his U.S. 302nd Regiment, had crossed the Saar River against German defenders.
On Feb. 21, 1945, Fatora's commanding officer ordered him into flimsy assault boats to establish a beachhead on the eastern shore. But the Saar was in flood, the current and undertow violent and in heavy fog the Germans were lobbing mortar shells at them from heights across the river.
"On the way over, the boat tipped and I was thrown into the current," Fatora said, "And I cannot swim!"
I asked what happened to him and his platoon. He said he managed to grab hold of wreckage of a bridge that retreating Germans had blown up. But as the remains of his assault boat drifted away, he saw the face and hands of a man sink under the current for the last time. Medic Howard Ellinson had been with Fatora's regiment from basic training, through transatlantic crossing, all the way to the Saar-Moselle Triangle in the Battle of the Bulge. But, Fatora said, Doc Ellinson had seen too many good men die.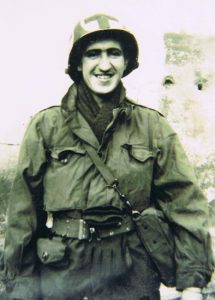 "The man was a state champion swimmer from North Dakota," he said. "I just think it had all gotten to him – the war, all the men he'd tried to save. He just plain gave up."
Like my father (then an American citizen), Jerry Fatora made it back home to the United States, to leave the war, the military and the bad memories behind. Jerry enrolled in the 94th Infantry Division Historical Society. My father had not. Perhaps to prevent himself from drowning in traumatic memories, Dad had chosen to forget.
He'd left it up to me to return to find his war and to heal the wounds it left.