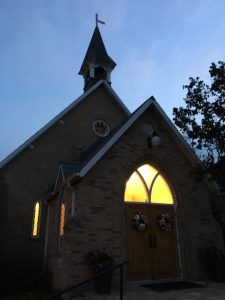 I found Christmas over in Port Perry last Sunday afternoon. I wasn't alone. And, no, there wasn't a sudden conversion in my life. But I was in a church. A few minutes after 3 p.m., last Sunday, I was invited to a lectern to initiate a fundraiser with these words:
"Marley was dead, to begin with. There was no doubt whatever about that. … Old Marley was as dead as a doornail."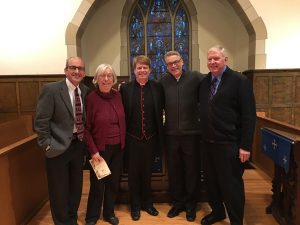 Everybody has seen or heard or read those lines, whether in a high school English course, or watching Alistair Sim's classic movie portrayal of Ebenezer Scrooge on TV or DVD in the lead up to Dec. 25. Of course, they are the first lines of Dickens' classic novella, A Christmas Carol. Some months ago, Anne Wells and Barbara Blower, members of the Durham agency known as North House, decided to collaborate with the Church of the Ascension in Port Perry, to present a Sunday afternoon reading of this story to raise some cash and awareness of North House assisting those who are homeless in our area.
Whenever I've had the opportunity to do public readings of the work, I've always discovered in Dickens' words more than just an engrossing story. The pictures of heroes and villains, the evocative dialogue of the time, and the imagery he sketches of Victorian England and the message of redemption, for me, are the spark for Christmastime. For the public reading, the novella is broken into five staves. I read the first, in which Scrooge belches out his first "Bah! Humbug!" to Fred, the nephew eager to have his uncle come to Christmas dinner.
Stave Two was read last Sunday by Ted McCollum, the minister from Beaverton's St. Paul's Anglican Church. In Ted's section, Scrooge is visited by the ghost of his dead partner, Jacob Marley, whom he dismisses with a joke:
"You may be an undigested bit of beef, a blot of mustard, a crumb of cheese, a fragment of an underdone potato," Scrooge says. "There's more of gravy than of grave about you, whatever you are!"
To which Marley warns: "You have yet a chance and hope of escaping my fate. … For your own sake, remember what has passed between us!"
The next sequence, Stave Three, was read by friend and broadcast colleague Dan Pollard. For the past year or so, he's been building the credibility of 105.5 Hits FM radio with special emphasis on bolstering the North Durham community. Dan got to read the sequence in which Scrooge revisits his boyhood mentor, Mr. Fezziwig, who casts all work aside to make merry with his staff. And it's here that Scrooge's awakening begins, seeing value in the joy of giving.
"I should like to be able to say a word or two to my clerk just now," he tells the Ghost of Christmas Past.
Stave Four, read by Ian Rowan, a member of the Church of the Ascension parish, features some of Dickens' most poignant imagery, I think. On one hand the Ghost of Christmas Present reveals the plenty that some enjoy. On the other, we receive Dickens' most dramatic message for the season. History tells us that Dickens first conceived his project in 1843 as a pamphlet he planned to title, "An Appeal to the People of England on behalf of the Poor Man's Child." He actually quoted interviews with children, done by a journalist friend, exposing the 16-hour days, six-days-a-week working lives of girls and boys in Victorian factories. The fate of the poor, Dickens encapsulates in Bob Cratchit's meagre Christmas and in Tiny Tim, his dying son.
"They were not a handsome family, not well dressed," Dickens wrote, "but they were happy, grateful, and contented with the time."
My co-readers had built the story to its now fabled conclusion. It was up to me, reading Stave Five, to bring it home. And it's here I found my Christmas: Reading aloud about the women who scavenged the home of a dead man, the businessmen dismissing the recently deceased merchant, and viewing the headstone in a neglected graveyard – as Scrooge realizes his likely fate from the Ghost of Christmas Yet to Come.
And then sharing Scrooge's ultimate redemption – as he realizes he hasn't missed Christmas, then sends Bob Cratchit the prize Turkey, and finally gets to the counting-house office the next morning, watching his clerk arrive 18-and-a-half minutes late and proclaiming:
"And therefore … I am about to raise your salary! A Merry Christmas Bob!" Dickens lets his lost man found, Scrooge, become "as good a friend, as good a master, as good a man, as the good old city knew, or any other good old city, town or borough in the good old world."
And so, having had the chance to set the table for Christmas by reading A Christmas Carol aloud for myself and others, I can now say it's time to let the festive season begin.