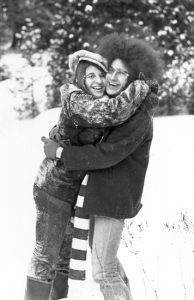 As I wrote last column, welcoming a baby grandson into the world was truly a gift. That was the First Day of Christmas. On the Second Day of Christmas, I went looking for a gift for my sister. I searched and then I found a photograph, taken of the two of us about 1972. So, I went to a local photo place and the guy said he could duplicate it, but that he didn't normally adjust for contrast and brightness.
"But in the spirit of the season," young Michael said, "I'll see what I can do."
Thoughtful, I'd say. Unexpected gifts are the best.
On the Third Day of Christmas, I shovelled my first driveway of snow.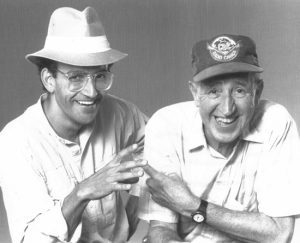 On the Fourth Day of Christmas, I travelled north to Haliburton to speak at "Yours Outdoors," a monthly presentation of Canadian storytellers – staged in the hall at the local fish hatchery. While there, I had a chance meeting with a dear friend, photographer Fred Phipps. For a generation, Fred took stills of the CBC's broadcast personalities. In the 1980s, he took a shot of my dad Alex Barris and me preparing for a holiday radio broadcast on CBC Radio, called "Family Outing." Reminiscing with Fred was like receiving the gift of his photo all over again.
On the Fifth Day of Christmas, I arrived early enough at the hockey arena to tie my grandson's skates and watch him score six goals. When his dad asked him how many goals he planned to score at the next practice, he said proudly, "A thousand!"  What's Christmas without a kid's optimism?
On the Sixth Day of Christmas, Jayne and I dropped everything to see our granddaughter in a performance of The Nutcracker at the Music Hall. This was an evening with as many presents as any child's imagination could wish for – wonderful sets, dazzling costumes, music by Tchaikovsky that has endured since 1892, and all ages of the community's youngsters performing on stage. But for me the most precious gift here is that given by resident and choreographer Nancy Einsmann. She and her family continue to give of their talents, their ingenuity and their dedication to dance. Best of all, they give our children the confidence to perform and a love of the arts.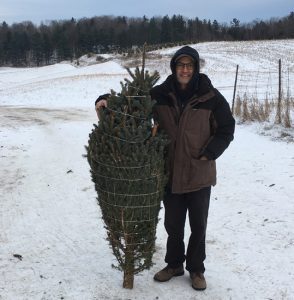 On the Seventh Day of Christmas, an annual tradition. While most have already put up a tree, I generally wait until the last few days before Dec. 25. It used to be a family event – packing the kids, dog and saw in the car and heading into the hinterland to cut down a tree, a la Chevy Chase. What with everybody's busy schedule, however, this year it came down to me and the dog. So off we went into a snowy afternoon, over the hills, into the dales and when he stopped to sniff at a tree, I figured we'd found the one.
On the Eighth Day of Christmas, I caught up with a friend who was bit down-in-the-dumps and bought her some cut flowers.
On the Ninth Day of Christmas, we did something we rarely do – hand-delivered a Christmas card to some new neighbours.
On the Tenth Day of Christmas, well, what would Christmas be without some SOFA hockey (that's Sunday morning over-50 league oldtimers league). And pretty much as usual, the team who asked me to spare for them, didn't benefit much by having me on the ice. We lost. But it didn't matter. Our team rep brought along some Baileys and some plastic shot-cups to toast Christmas, the end of the year, and the optimistic motto of recreational hockey everywhere. "We'll whip 'em next game."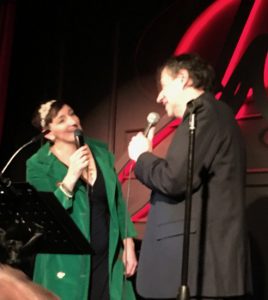 On the Eleventh Day of Christmas, another show to take in. This one in Toronto, where our daughter Whitney Ross-Barris – just three weeks after giving birth to her third son – co-starred in a production of A Jewish Boy's Christmas, a wonderfully imaginative and off-the-wall interpretation of the season's music created by U of T professor and jazz singer, Sam Broverman. As Sam illustrated in song, you know all those musical Christmas chestnuts – Winter Wonderland, Let It Snow, Santa Claus is Coming to Town and White Christmas – they were all written by Jewish composers and lyricists!
On the Twelfth Day of Christmas – actually it happens tomorrow evening just after 6:30 – I'll pour myself a seasonal nog, dim the lights, settle into an easy chair and tune in to CBC Radio 1. It may be awfully old-fashioned, but the broadcast of Alan Maitland's reading of The Shepherd, by Frederick Forsyth, is like putting the favourite last ornament on the tree. From the opening sounds of this Second World War Christmas ghost story, to the final words from the batman of aviation hero, Johnny Kavanaugh, this is theatre of the mind at its best. A cold-war jet pilot finds himself alone flying over the North Sea on Christmas Eve, without a radio, without a visible means of landing, without any hope of survival. Until…
Ah, but that's a Christmas gift you'll have to unwrap for yourself.
Best of the season, faithful readers.