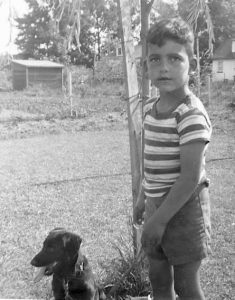 It was a reflex. An involuntary response. It's what I've always done when it starts to thunder or rain really heavily, like it did the other evening. It was during that thaw Monday night when all of a sudden we got a cloud burst over the house. Being in my office upstairs, and close to top of the house, as soon as I heard the rain begin to pound on the roof, I pushed my desk chair back, turned for the door and called out.
"It's OK, Bud," I said. Then, I stopped myself.
The friend I'd just tried to console wasn't there. He hasn't been there for about a week now. But that hasn't stopped me from thinking he still is. And catching myself calling out to him the way I did for about 15 years, well, that's been going on since last Wednesday. That's when I had to make one of those difficult decisions.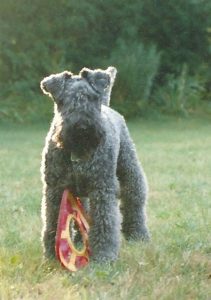 Finn – his name is actually Finn, not Bud – got sick last Tuesday night. He began to quiver and sweat and stare straight ahead. I didn't know what to do since he couldn't tell me what was wrong. But I stayed up all night stroking the back of his head, until he and I finally fell asleep. A few hours later I took Finn to the veterinary clinic.
"I could do a whole bunch of diagnostics and tests," Wayne Cole said.
"No, Doc," I said. "No dramatic measures. He's a 15-year-old dog. He's been my Bud. He's hurting, and…
"It's time," Wayne said. And I nodded.
Finn – we used to call him Finn McCool, like the benevolent Irish giant – was a Kerry blue terrier. And while for part of his early life, when our daughters were still around the house, he was the family dog, for most of his life he was my canine companion. I fed and watered him every day. I walked him every day. He slept just outside the bedroom door every night.
And probably most important of all, when I sat here in my office, writing hour after hour after hour, he sat either at my feet, next to my chair, or at the entrance to my office. (He was my writing buddy through at least four book manuscripts and 15 years of Barris Beats). And usually about 4 or 5 o'clock each afternoon he'd begin to look at me with great expectation.
"OK, Bud, I know," I'd say. "It's time for a walk."
Hearing those words, he'd be off like a shot, bounding around, leading me to his leash and all but opening the front door with his teeth to head for the park for his run. It really was therapeutic. All those years Finn thought those walks were for him. Actually, they were as much for me, to get me up from my computer chair, to get me some fresh air, to clear the cobwebs from my brain and to get me to stop generating words, in favour of generating steps.
And we'd talk on those walks too. You know what I mean. I'd talk through a writer's block moment. Or, I'd vent about this problem or that. I'd plan things out loud. And every time I spoke, he'd wait for a word he understood, or his name, and give me a knowing look back. That's the way dogs talk. It's dog-alogue.
I've had dogs in my life since I was a child. I've loved having that sense of never being alone, knowing a dog was there. It must be something primal. I'm sure it's the same for those who've had cats or birds or fish or hamsters as pets. But our dogs have served more than just my family.
In the 30 years we've lived here, the two Kerry blues we've had over that time, also connected with my long-time neighbour Ronnie Egan, a Second World War vet. All the years I commuted from town to the city to teach, the last thing I did each early morning, was throw open the door, look to Ronnie's back door, also thrown open, and Finn knew the rest.
"Go see Ronnie!" I'd say. And Finn would bound through darkness, snow drifts or pouring rain and he'd be Ronnie's companion for the day. And vice versa. I suspect they both lived longer, richer lives because each adored the other. Now they're both gone.
What's hardest to get past are the habits. After the vet put Finn down, my wife gently tidied up some of the spots that were his spots around the house. Where he ate. Where he slept. Where his toys were gathered; there's still the Frisbee sitting, waiting for me to throw it for him. Each of the rugs where he used to lie down, I find my eye still searching to find him. My guess is this won't stop completely. The next time the rain starts pounding on our rooftop and I quickly turn to calm Finn, he still won't be there.
And it won't be raindrops watering my eyes either.