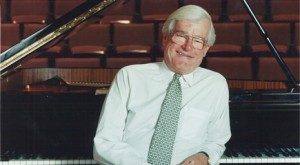 The show always started the same way. At the top of the clock – 7 p.m. on Wednesday – there was a jazz fanfare, a flourish of trumpets and saxes and a drum roll, as the title flashed across the screen. The audience in the studio began whistling and applauding, just as the CBC voice-over announcer, Larry Langley, introduced the show.
"From Edmonton," he called out enthusiastically, "It's Tommy Banks Live!"
Just off-stage, out of the range of cameras and microphones, the two writers of the weekly show – Colin MacLean and I – used to stand, joining the audience's applause in anticipation of the next hour of live-to-air television. Inevitably, as Tommy entered the studio to acknowledge the studio audience's applause, either Colin or I anticipating the start of another show would lean to the other and say rhetorically, "Does TV get any better than this?"
Remarkably, it almost always did. That's because Tommy Banks, one of this country's jazz piano greats, not to mention a master conductor, arranger, producer, teacher and later, Canadian senator, was also a masterful TV host. And from that moment on, each Thursday evening, Tommy's show, which we wrote for about four seasons, would soar.
During those extraordinary weekly shows, Colin and I wrangled guests and scripted material that ran the gamut – from politicians to poets, from wild-animal handlers to inventors, and from singing stars to sports heroes. But, as Tommy used to tell us, it didn't matter who our guests were, as long as they shone for the audience at home and in the studio, that's all that mattered.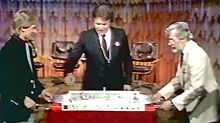 Since the show was based in Edmonton, every season then Oilers star Wayne Gretzky appeared on the show; one season as part of the annual interview, Tommy agreed to take on "The Great One" at table hockey; of course, Gretzky won. When the program showcased new talent, Tommy accompanied every singer on piano. Whether prima donna or jittery novice, Tommy made every artist sound spectacular.
Once, on another show, we anticipated the arrival of British-born rock idol Long John Baldry from Vancouver. When Baldry came to town with only the sheet music for one instrument, Banks worked all night composing and then transposing Long John's single chart into a complete musical score for "Don't Try to Lay No Boogie Woogie on the King of Rock and Roll" that included parts for piano, bass, drums, saxes and brass. When Long John stepped into the studio for rehearsal and then live performance, he lifted the roof off the place because Maestro Banks had given him the tools. Tommy just smiled, stood back and admired his guest.
Tommy Banks died from leukaemia this week. He was 81.
Any biography of the man lists a wide range of his diverse accomplishments. As a musician he recorded with everybody (but steadfastly preferred to do it in Canada); he arned a Juno (1979), and invested in Edmonton musical venues, such as the Embers and Yardbird clubs. In the 1970s, he helped establish the little-known Edmonton Symphony Orchestra (ESO) as one of the country's premier pop music orchestras. He became an officer of the Order of Canada. And his TV shows earned broadcasting's Gemini Award (1992) for their excellence.
Once in the 1980s, following a fundraising benefit for the ESO that featured Tommy as the auctioneer, I asked him why he'd gone to so much trouble. "It's for the musicians," he told me. "Every time I've ever gotten into business, it's been in order to create musical work, to create the opportunity for musicians to work." He even took bids to cut off his beard; that alone raised $1,050. The auction raised $80,000 for the symphony.
I had the privilege of watching host and musician Tom serve his country as Senator Tom too. Through much of his 11 years inside Canada's chamber of sober second thought, Tommy attended the needs and wishes of Canada's veterans. One day in Ottawa he invited me to watch Senate committee proceedings during which Veterans' Affairs representatives were quizzed about assistance to men and women recently back from Afghanistan. While the then majority senators framed the questions to promote government policy, Banks had veterans' pensions top of mind.
"Sometimes (government) tells us one thing," Sen. Banks said. "But the view from the boots on the ground is very different."
In 2010, Sen. Banks joined a delegation of Canadian veterans and dignitaries to Holland to participate in the 65th anniversary of the liberation of the Netherlands. Every time the Dutch photographers wanted pictures of the dignitaries, Tommy put Holland's liberators, the Canadian vets, front and centre. They were the stars and not surprisingly Tommy's heroes.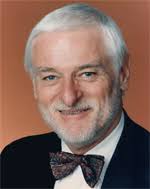 Late last year, while Tommy battled the leukaemia they found in his body, members of Alberta's acting and writing community chose to honour Tommy's lifetime of supporting the arts; they weren't hopeful their guest of honour would be able to attend. But just as proceedings began, Colin MacLean told me, "The man of the hour appeared, cracking jokes, the same old Tommy, modest and grateful as ever."
Every Wednesday night, when the curtain fell on another Tommy Banks Live TV show, again my writing partner and I joined the audience applauding yet another show put on air. And at every show's end, the first one to march over to Colin and me with a hearty thumbs-up was Tommy. "Great show, guys," he'd say and we'd reciprocate. Harry Pinchin, who led the band on Tommy Banks Live, told the Edmonton Journal this week that Tommy's TV shows ran successfully in more than 100 countries.
"He was the guy," Pinchin said. "Like Gretzky, someday, someone will break those records, but I don't see another Tommy Banks in this country."