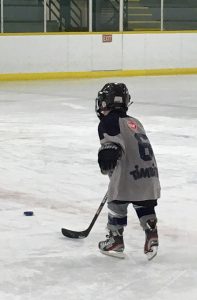 It didn't matter how early on a Saturday, he still came with me. Even if he'd worked half the night getting his last newspaper column of the week finished at the Globe and Mail, and even if we played the first game of the day at 6 a.m., my dad was always there. He helped me tie my skates, made sure my Butch Goring helmet was in place, and sent me onto the ice to play house-league hockey. I felt secure too, seeing him at the end of the outdoor arena, through the chain-link fence, cheering us on.
"Go, Agincourt, go," I heard him shout between puffs on his cigarette.
Having a parent take me to the rink felt supremely comforting. And, as I remember, we had a couple of coaches – volunteers – who made sure we had sticks, pucks and jerseys. It was always reassuring to have those familiar people there for us. A virtual security blanket. And one year, when we won the house-league for our age group in Agincourt, we actually got to ride on a bus to a regional play-off game at Ted Reeve Arena in East York – an away game inside a covered rink. But again, any childhood anxiety evaporated because those volunteers provided support and encouragement just by their presence. Youth hockey in this country has always felt safe and secure.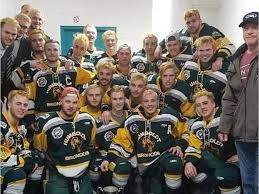 Then, Friday's bus crash on the road between Humboldt and Nipawin, in Saskatchewan.
"You get on a bus multiple times not thinking about anything like this," Justin Buzzeo, former player with the Humboldt Broncos, told CTV. "It's sad. It's really sad."
The city of Humboldt, the province, the country, the hockey world now tries to understand how this collision between a transport truck and the Broncos' team bus Friday night could ever happen. How could it be anything in Canada, but a safe ride to a game? Although one statistician did note that the Broncos routinely clock 15,000 kilometres per season, and that they spend the equivalent of 16 full days on buses travelling to and from away games. There can't be a single parent of a daughter or son – travelling to hockey games almost every weekend – who isn't shaken to the core by this. Not to mention emergency service people.
"In 32 years, it's the worst I've ever seen," Jessica Brost, a paramedic dispatched to the crash scene, told the National Post.
For all the time, effort and money that hockey administrators, sporting goods manufacturers, and public safety advocates have invested in everything from helmets to concussion protocols, from visors to drug testing, and from mental health specialists to arena security and safety, one might expect something as straightforward as bus travel from one community to the next to be the least concern … to be safe. I know my dad didn't flinch when we got our bus ride to Ted Reeve Arena. I don't think most Humboldt parents thought about it much before Friday.
I don't think Greg Gilhooly's folks thought twice about their son's safety either, back in 1979, when the coach of the Midget St. James Canadians, a team of 16- and 17-year-olds representing Manitoba in the (then) Air Canada Cup, chose Greg to play goal. The coach turned out to be Graham James, a charismatic team manager, but also a sexual predator. On the pretence of a foot-massage therapy, James took advantage of his control and power over the boy. "He rubbed my legs. He fondled me," Gilhooly wrote in his just published book, I Am Nobody: Confronting the Sexually Abusive Coach Who Stole My Life. "He exposed himself. … I did nothing."
Gilhooly was just 14. James had catapulted him over the other Midget goaltenders to get him to the Air Canada tournament, but mostly to take advantage of him. The abuse continued into the 1980s. It changed the way the youngster saw hockey. It changed the way he looked at life, forever. I recently had the honour to meet and interview Greg Gilhooly in front of an audience. He candidly revealed how he hid from the truth, nearly took his own life, watched the courts convict James for assaulting Sheldon Kennedy and Theo Fleury, but finally broke his silence, in 2010, when the National Parole Board pardoned James.
For the sake of other vulnerable youngsters, for his own sanity, Gilhooly became a lawyer, stepped out of anonymity, challenged his assailant and took back some of the self-esteem he'd lost. I asked Greg if he could every play hockey again.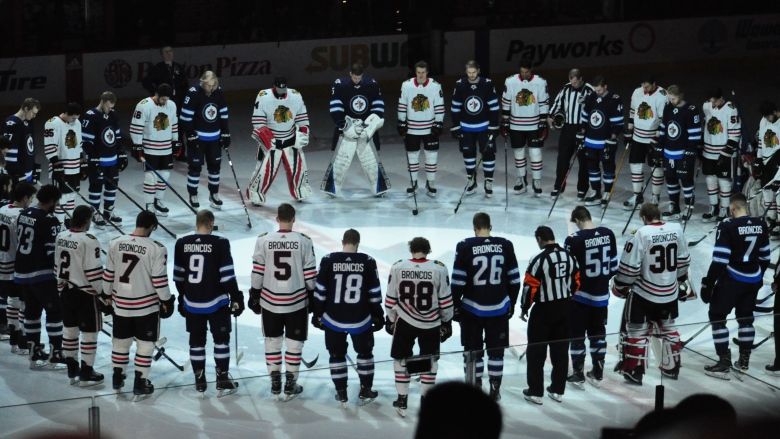 "I loved hockey back then," he said. "Still do. It was where I felt most comfortable … completely in control. It's where you're supposed to be safe."
At the end of the evening when Greg and I spoke in front of that audience in Pickering, Friday night, we all learned there'd been a terrible crash on the highway in Saskatchewan that night. Fifteen members of the Humboldt Broncos organization had died. Another part of hockey's safe haven had been shattered.