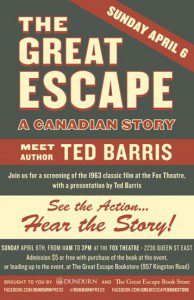 It's still the third most popular war movie Hollywood ever made. It's still can have a movie theatre audience on the edge of its seats 50 years after the film was made. And now, one of Toronto's most loved bookstores will show you why. On Sunday, April 6, 2014, "The Great Escape" (bookstore) presents "The Great Escape" (movie) at The Fox theatre in the Beach.
Ted Barris, author of the National Bestseller The Great Escape: A Canadian Story, hosts the afternoon screening and talk… because, you see, as compelling as the movie is, Hollywood never let facts get in the way of telling a good story. What's more Barris sets the record straight – the escape was very much a "made-in-Canada" phenomenon.
Ted Barris is an author, journalist and broadcaster. As well as hosting appearances on CBC Radio and regular contributions to the National Post and Legion, Air Force and Zoomer magazine, he is a full-time professor of journalism and broadcasting at Centennial College in Toronto. He has authored 17 published, non-fiction books. In 2011 he received the Canadian Minister of Veterans' Affairs Commendation and in 2012 the Queen Elizabeth II Diamond Jubilee Medal.