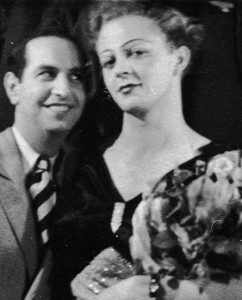 After nearly three months of furious activity, moving the last of the excavated sand from the trapdoor of Tunnel "Harry" to the trapdoor under a seat in Row 13 at the North Compound theatre, the dust was quite literally settling for the sand dispersal team. The basement of the theatre had become the final burial ground for 30-to-50 tons of "Harry's" sand.
Meanwhile, life under the lights – one floor up – went on as usual.
The theatre troupe made a couple of offbeat choices to complete its 1944 winter playbill. In late March, the POW thespians presented the farcical black comedy "Arsenic and Old Lace."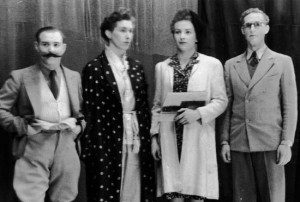 Ironically enough, next came "Escape," a 1926 play be celebrated British Novelist and playwright John Galsworthy. The storyline followed the life of a law-abiding man who met a prostitute, accidentally killed a police officer defending her, and then escaped from prison. The POW production featured longtime kriegies Peter Butterworth as the shopkeeper, John Casson as the parson, and, of course, taking on the female leads were John Dowler, Malcolm Freegard, and Tony Pengelly.
"I spent much of the war in drag," Pengelly said later.
The next production up required a slight alteration. Roger Bushell, who had been learning lines and rehearsing the blocking for the March 24 premiere of "Pygmalion," had to inform his understudy, Kenneth Mackintosh, that he would have to take over the role of Professor Higgins. Bushell had a previous engagement.
(Incidentally, one air force officer arrived at Stalag Luft III that winter with unused tickets in his pocket to a production of "Arsenic and Old Lace" being staged at the Hudson Theatre in London; his tickets were honoured at the North Compound theatre.)