Barris brings Vimy story to Whitby/Brooklin Probus
March 28 @ 10:00 am

-

12:00 pm
On March 28, historian Ted Barris will return to speak to the Probus Club of Whitby/Brooklin about the famous Battle at Vimy Ridge; the centennial was observed in 2017. Drawing content and visuals from his bestselling book Victory At Vimy, Ted will walk his audience through events of that famous Easter Monday morning – April 9, 1917. Fighting for the first time as a national army, that day, Canadian troops swarmed up that strategic ridge in north-central France and in a matter of hours accomplished what no Allied army had, in nearly three years of blood-letting in Europe. They seized Vimy from an entrenched German army. Indeed, Ted Barris makes the case that those young citizen soldiers gave birth to a nation – Canada.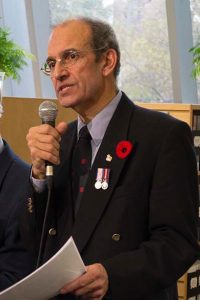 Ted Barris is an author, journalist and broadcaster, making appearances on CBC Radio and regular contributions to the National Post and Legion, Air Force and Zoomer magazines, he gives talks/presentations across the country. He has authored 18 published, non-fiction books.
In 2011 he received the Canadian Minister of Veterans' Affairs Commendation and in 2012 the Queen Elizabeth II Diamond Jubilee Medal. His book The Great Escape: A Canadian Story received the 2014 Libris Best Non-Fiction Award.