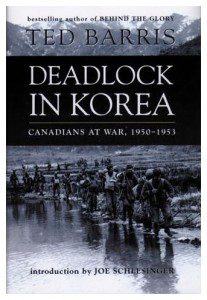 Deadlock in Korea, Canadians at War 1950-1953
Macmillan Canada
January 28, 2000
Hardcover ISBN 0-7715-7591-2
Softcover ISBN 0-7715-7675-7
"We are being attacked by a major Chinese force. We will hold our positions. We will fight to the end."

November 23, 1951. Members of the Royal 22nd Regiment – the Vandoos – were dug in around the base of Hill 355 on the front lines in Korea. This strategic height had been won by the allies in October. The enemy wanted it back. 9,000 shells an hour rained down during the bombardment. Waves of community soldiers advanced through artillery fire. The Chinese forced the Americans from the summit, and the Vandoos' commander had a choice – retreat with the rest, or stay.

The Canadians held their ground for three more days. The U.S. infantry regained the hill, and the enemy fell back.
Between 1950 and 1953, nearly 30,000 Canadian volunteers joined the effort to contain communist incursions into South Korea and support the fledgling United Nations. All of the services were there and all served with distinction. The Royal Canadian Navy led a daring rescue of troops from the port of Chinnampo in 1950; members of the Princess Patricia's Canadian Light Infantry won the highest U.S. battle honour at Kap'yong in April 1951; the Vandoos turned the tide at Hill 355; and twice – at Hill 355 in October 1952 and Hill 187 in May 1953 – members of the Royal Canadian Regiment held firm against forces that greatly outnumbered them.
The navy and the infantry were bolstered by the Royal Canadian Horse Artillery and Lord Strathcona Horse tanks, as well as members of the service, medical, engineers, provost, chaplain and intelligence corps. Still more, from RCAF Thunderbird Squadron, took part in the Korean Airlift – three years of non-stop supply flights across the Pacific.
Deadlock in Korea is a fascinating, sometimes heart-stopping, look at Canada's forces in a war that history forgot.