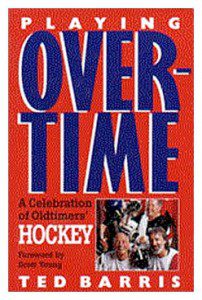 Playing Overtime, A Celebration of Oldtimers' Hockey
Macmillan Canada
1995
Rodeo Cowboys, The Last Heroes
Prairie Books
1980
ISBN 0-88833-161-4
Rodeo is perhaps the world's greatest test of physical endurance and raw heroism. For writer Ted Barris and photographer Robert Semeniuk, it is a fascinating and colourful world made up of rugged individualists.
It is the participant, the cowboy, who has excited both young and old for decades. Year in and year out, these men test their strength against the power of animals in such rodeo events as steer wrestling and bronc riding. Sometimes they are rewarded for their efforts by a winning time, but often they receive little more than the appreciative applause of an enthusiastic audience before heading down the road to the next rodeo.
What motivates these men to keep up such a grueling schedule? What has kept the tradition alive for so long? Through the combined effort of a gifted writer and an expert photographer, the exciting and entertaining world of the rodeo cowboy comes alive.
Guy Weadick was referring to the rodeo cowboy when he said, "There will be a tinge of sadness as we gaze upon the sunset of a dying race."
Well, the spirit has been true, the faith has been strong and the toughness, independence and resilience long symbolized by the rodeo cowboy are still alive today.
In this absorbing account, author Ted Barris introduces the rodeo cowboys of past and present, and guides us through the challenging events of rodeo competition. There are other stories too, stories of great horses like Outlaw, who could be subdued but never broken. Then, there is the action and colour of rodeo, recorded through the camera of expert photographer Robert Semeniuk.
For those who love rodeo and admire the gritty determination of the sport's participants, Rodeo Cowboys illustrates that rodeo truly is home to some of our last heroes.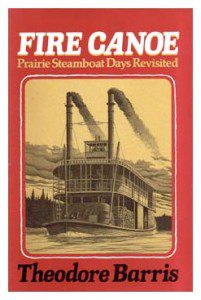 Fire Canoe, Prairie Steamboat Days Revisited
McClelland and Stewart
1977
ISBN 0-7710-1025-7
Return to the glamour and romance of Canada's steamboat days as journalist Ted Barris leads a prairie expedition into the past as recalled by the people who lived it.
Here, recaptured with vivid excitement, is the era when spark-belching steamers – called "fire canoes" by the awestruck aboriginal people who witnessed their coming – plied prairie waterways. For 50 thrilling years, a cavalcade of history paraded across their decks, people with figures of royalty, Mississippi riverboat refugees, gold-seekers, entrepreneurs, adventurers, circuses, preachers and politicians.
Packet, tub, queen and tramp steamers – they ferried the immigrants who pioneered an expanding western frontier and they freighted the rich cargoes that frontier produced. They coped with mutiny, transported militia to fight in the North West Rebellion, inspired poets and prose-writers, and fought in ruthless competition as the steamship lines that owned them vied for supremacy on western waters.
Fire Canoe is "people history," an exciting adventure story studded with rich folklore, personal anecdotes, maverick entrepreneurs and incredible feats of navigation. It is an unforgettable story based on the recollections of hundreds of living people who still remember what it was like back when…