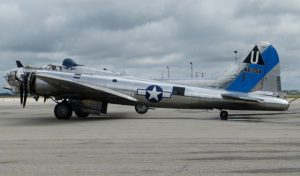 I was battling rush-hour traffic. Ironically, I was listening to a Toronto radio station's traffic reporter tell me I was in gridlock. Then, my cell phone rang. I read the call identification. It was one of my teaching colleagues at Centennial College. And he was excited.
"She's here!" he said, with more energy in his voice than usual.
"Who's here?" I asked.
"Sentimental Journey. She's going to be in Hamilton all this week," he continued.
It was Malcolm Kelly on the phone. He's the co-ordinator of Centennial's sports journalism program. And second only to his love of sports is Malcolm's love of airplanes.