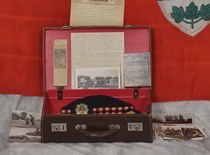 It's one of the most compelling wartime stories I've ever encountered. And I almost missed it. There I was, up to my eyeballs in other stuff, when I got a call from two acquaintances. Jeremy Van Dyke organizes overseas travel tours and Frank Moore, a retired former banker, collects classic cars.
"Ted, we've got to meet," Van Dyke said on the phone from Cambridge.
"I'm really busy," I said.
"We've got a story you've got to tell," Van Dyke insisted.