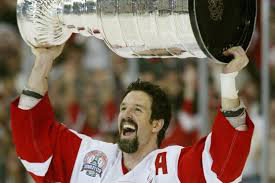 On Saturdays, 35 years ago, Brendan Shanahan the former NHL star forward, travelled to minor hockey games in west-end Toronto with his father. On those mornings at the arena, Donal Shanahan carried a newspaper under his arm; before each game "Father Don," as he was known, would tap Brendan's boyhood teammates on the head for good luck.
"For all those times … he got up in the morning (and) took me to the rink as a kid and tied my skates … or drove me to tournaments," Brendan Shanahan told me in 1997, "I owe him."
And 1997 was the year Shanahan won the Stanley Cup with the Red Wings. It was the first time Detroit had won the Cup in more than 40 years.
The image of Brendan going to the minor hockey rink a generation ago, and kids like him the generation before that, are what I call "Canadian Gothic," not unlike the 1930s classic American painting by Grant Wood. Only in this case, the two figures are not a farmer's wife and a farmer with a pitchfork, but rather a father with a hockey stick and a son or daughter with a hockey bag.
That's Canadian Gothic, a vision and a symbolism I kept imagining all this past week as Canada's men's and women's national hockey teams won gold medals at the Sochi Winter Olympic Games. Contrary to Don Cherry's rock 'em sock 'em attitude being credited with the Canadian victories, I'd suggest to you that credit for Canada's hockey gold medals at Sochi should be given to the players' moms and dads.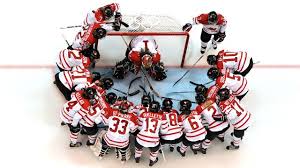 Case in point. A few months before the women's hockey Team Canada left for Russia, the team's sponsor (Procter & Gamble's "Thank You Moms campaign) arranged a special bonding dinner for the players in Laval, Quebec. My wife – a senior editor for Zoomer magazine – attended the dinner because she'd learned that the team brass had planned something different for the young women players – a surprise visit from the mothers.
The golden feeling went right round the room, as Anne Apps, who had not seen Gillian Apps since training camp in August, heartily embraced her daughter; as Nathalie Saviolidis caught up with her daughter Geneviéve Lacasse so that the two could share conversation about the goaltender's prospects against the arch-rival Americans; and as veteran player Hayley Wickenheiser and her mom, Marilyn, talked of hers and Team Canada's pursuit of a fourth straight gold medal.
"I've never met so many young women who appear so comfortable in their own skins," Jayne MacAulay wrote in Zoomer. "Elite hockey, it appears, is a college for confidence and leadership."
While not exactly the same – because there are fat NHL salaries attached – I remember at the beginning of February, when the Leafs brass continued an annual tradition of bringing the players' fathers along for a road-trip to Florida; on the junket the fathers watched their sons play the Panthers in Miami and two nights later the Lightning in Tampa Bay. The atmosphere of the trip some likened to a tailgate party, during which the players roomed with their dads, attended father-and-son dinners and did a little fishing. Toronto Star reporter Curtis Rush talked to Randy Carlyle about the value of such an investment.
"It's an opportunity where we can use (the players') dads as a catalyst and say, 'Hey, play well for your father.'"
The record shows that the Leafs got dumped by the Panthers 4-1 on the Tuesday night. But after the hoped-for pep talk from their dads and a couple of days' R and R, on Thursday night the Leafs came through with a convincing 4-1 win over Tampa.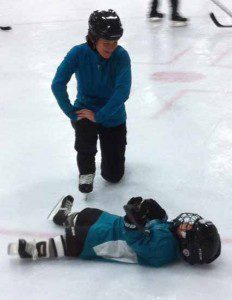 Over the past five months or so, I've carried on something of a tradition in our family. Back before Donal and Brendan Shanahan's early Saturday trips to the rink in Mimico, back the 1960s, my dad – despite his newspaperman's late-night hours – accompanied me to the outdoor rink in Agincourt to watch me play early-morning house-league hockey. Two generations later, this winter, I've accompanied my son-in-law as we watch his son Sawyer and his teal-jersey Sharks learn the skills of skating, stick-handling and shooting.
"Just like my own minor hockey days back in Agincourt," I said to my son-in-law, "we learned it wasn't about winning, but being there."
Finally, I guess I should point out the irony of Brendan Shanahan's NHL championship with the Detroit Red Wings in 1997. His traditional victory skate around Joe Louis Arena, that spring night in 1997, must have felt bittersweet.
"I regret that (my dad) wasn't able to see me play in the NHL," Brendan Shanahan said, "or watch me win the Stanley Cup."
"Father Don" Shanahan, who had always "taken his son to the rink" in Brendan's minor hockey days, died of Alzheimer's disease six years before his son won the Stanley Cup.
Sometimes Canadian Gothic is not picture perfect.